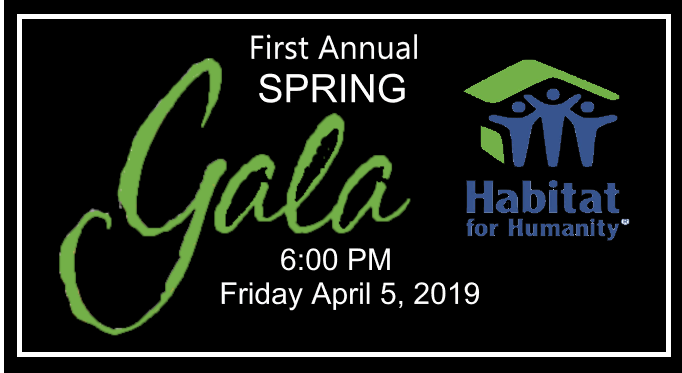 Tahlequah Area Habitat for Humanity is proud to host our First Annual Spring Gala, which will take place at the Tahlequah Armory Municipal Center from 6-9 p.m., on Friday, April 5, 2019. Join us in making a change in our community while enjoying an evening of fun and celebration! 
The Gala, which kicks off at 6:00 p.m. on Friday, April 5, includes music from the Casey West Band, and dinner at 6:30. Deep Branch Winery, with Blind Luck, will run the wine bar, and guests will be able to participate in a silent auction. Individual tickets for the Gala are available for $40 each, and can be purchased at the TAHFH office located at 816 S. College Ave., ReStore Rack located at 12 Plaza South (across from the Tag Agent), or online. To purchase individual tickets online, CLICK HERE. Individual ticket holders will receive a reserved seat, beverages and dinner. Event sponsorships are also available (please see Sponsor Levels and Sponsor Benefits below).
We are excited to celebrate the Tahlequah Area habitat for Humanity Spring Gala! The evening includes silent auctions, live entertainment, music for dancing, and a wonderful dinner followed by the Tahlequah Area Habitat for Humanity Board honoring individuals/businesses that have made a difference in the lives of others in our community through TAHFH.
For information about the Gala or to become a Sponsor, please call 918.453.1332 or send an e-mail to: habitat-tahlequah@att.net
SPONSOR LEVELS
EVENT SPONSOR $1200 (tax deductible)
Tables & Seats: 2 tables (16 seats)
Emcee Recognition: Evening of the event
Website Recognition: Name/Logo on the TAHFH website
Program Advertisement: Full-page ad with Prominent placement
Attendee Benefits: Complimentary valet parking, beverage and dinner
Media Recognition: Recognition on all social media outlets
PLATINUM SPONSOR $1000 (tax deductible)
Tables & Seats: 2 tables (16 seats); favored seating
Emcee Recognition: Evening of the event
Website Recognition: Name/Logo on the TAHFH website
Program Advertisement: Full-page ad
Attendee Benefits: Complimentary valet parking, beverage and dinner
Media Recognition: Recognition on all social media outlets
GOLD SPONSOR $600 (tax deductible)
Tables & Seats: 1 table (8 seats)
Emcee Recognition: Evening of the event
Website Recognition: Name/Logo on the TAHFH website
Program Advertisement: Half-page ad
Attendee Benefits: Complimentary valet parking, beverage and dinner
Media Recognition: Recognition on all social media outlets
ENTERTAINMENT SPONSOR $500 (tax deductible)
Tables & Seats: 1 table (8 seats)
Emcee Recognition: Evening of the event
Website Recognition: Name/Logo on the TAHFH website
Program Advertisement: Full-page ad with Prominent placement
Attendee Benefits: Complimentary valet parking, beverage and dinner
Media Recognition: Recognition on all social media outlets
Night of Gala: Individual signage; prominent placement
SILVER SPONSOR $300 (tax deductible)
Tables & Seats: 1 table (8 seats)
Emcee Recognition: Evening of the event
Website Recognition: Name/Logo on the TAHFH website
Program Advertisement: Name printed in event program
Attendee Benefits: Complimentary valet parking, beverage and dinner
Media Recognition: Recognition on all social media outlets
---
SPONSOR RESPONSE FORM
Name______________________________________________________________
Address____________________________________________________________
City ___________________________________ State___________  Zip_________
Phone_____________________________________________________________
Email______________________________________________________________
I would like our recognition to appear as:_________________________________
Sponsor Level (check all that apply)
_____Platinum Sponsor                                                                      _____Entertainment Sponsor
_____Gold Sponsor                                                                            _____Event Sponsor
_____Silver Sponsor                                                                          
_____I/We cannot attend, please accept a donation of______                                                       
TOTAL:________________
PAYMENT INFORMATION
METHOD OF PAYMENT (check one):
___Cash ____Check ___Visa ___MasterCard ___American Express
CREDIT CARD NUMBER___________________________________________________________
EXPIRATION DATE____________________________________ CVV CODE _________________
NAME AS IT APPEARS ON THE CARD_________________________________________________
SIGNATURE________________________________________________________________
Please either bring this completed form to the TAHFH office, or send it by mail it to:
TAHFH
 PO Box 1876
Tahlequah, Oklahoma 74465-1876