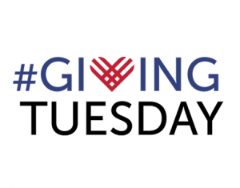 Click on the above #GivingTuesday icon to participate in this annual event!
After Black Friday and Cyber-Monday shopping, #GivingTuesday is a day dedicated to giving back to our community. Tahlequah Area Habitat for Humanity (TAHFH) is partnering with the national #GivingTuesday movement.
#GivingTuesday is your chance to give back to our community this holiday season with the spirit of giving. On Tuesday, November 27, 2018, charities, businesses, students, community centers and families around the world will come together to embrace generosity through giving. You can participate in this event by making a monetary donation to TAHFH. Please also consider making a material donation to the ReStore and Rack. You can also make a donation of your time by volunteering to help in the ReStore.
Although this year's #GivingTuesday occurs on November 27, 2018, the spirit of #GivingTuesday extends through the entire holiday season. As you donate or volunteer, we hope that you will share your support for #GivingTuesday by taking a pic, tagging it #GivingTuesday and #TAHFH, and uploading it to your Instagram, Facebook or Twitter starting now through New Year's Day on January 1, 2019.
Thank you for participating this year in #GivingTuesday.