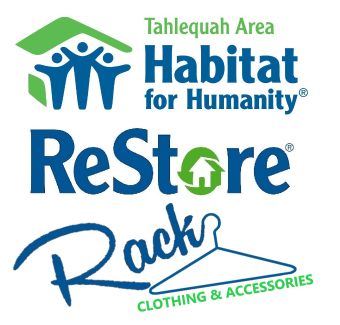 ReStore Rack will close at 3:00 p.m., Friday, July 3, 2020
Our store-wide half-price days are weekly, Monday and Wednesday.
ReStore Rack Clothing and Accessories (across the parking lot from the Tag Office)
12 Plaza South
Tahlequah, OK 74464
ReStore Rack phone number: 918.453.0466
ReStore Rack Hours:
Monday-Friday: 10:00-5:30
Saturday: Closed
Sunday: Closed
ReStore Rack offers for sale a wide assortment of quality, gently used clothing and accessories for women, children and men.  We also welcome donations of used clothing and accessories, and all donations are tax deductible.  We ask that donations be brought to the store during regular operating hours.
We wish to thank those individuals and businesses that generously donate items to the ReStore Rack.  Also, a big THANK YOU to our volunteers who give of their time to help in the ReStore Rack.
The Rack is Voted Best Thrift/Consignment Store in Cherokee County in 2019!
Please also visit our ReStore Home Improvement Store page.