Construction of House #33 Started on July 31, 2023
Join us in helping to build House #33.
House #32 for Estela Rojas Family Completed in March 2023 (Pictured Below)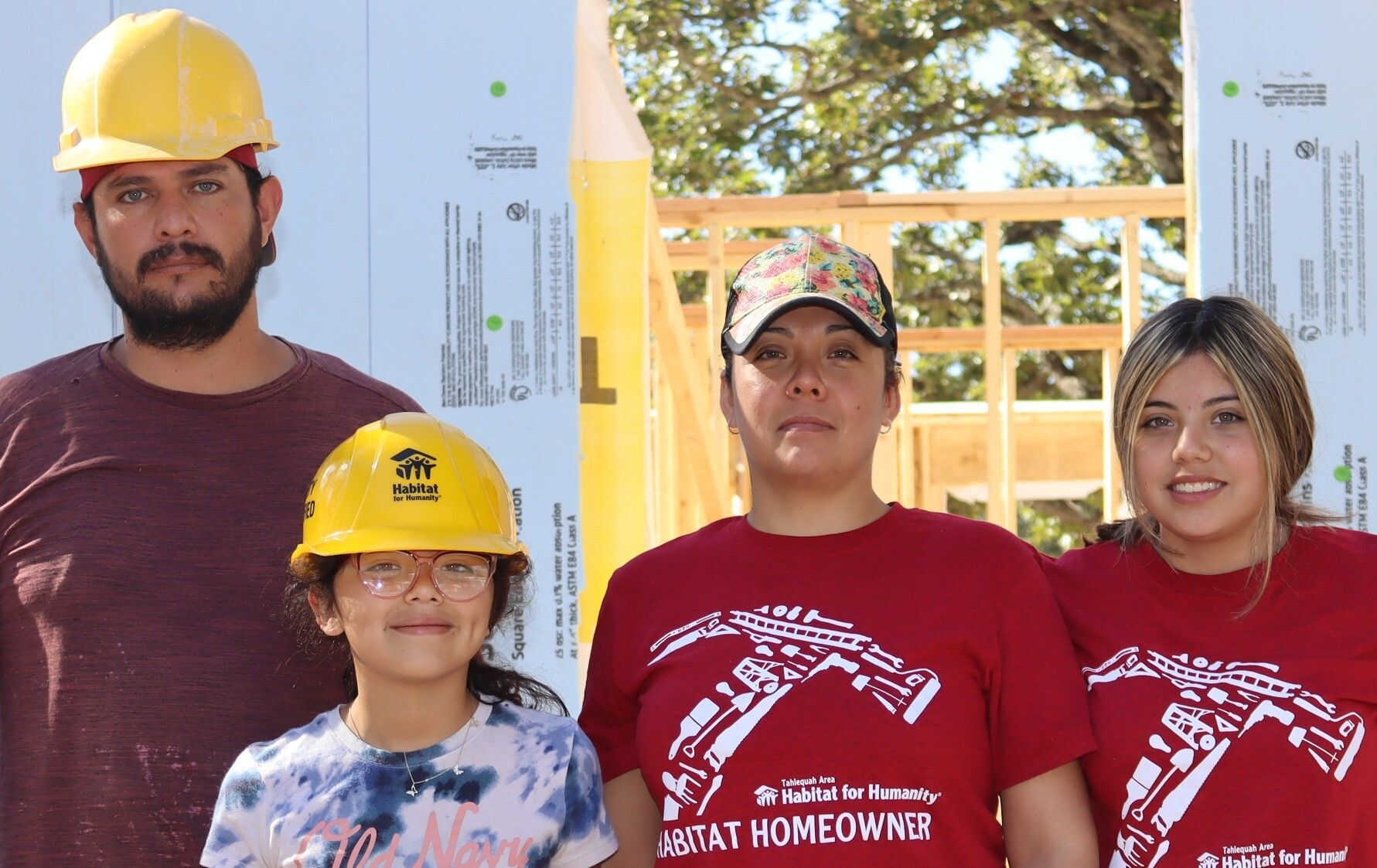 House #31 for Pam Brown Completed in July 2022 (Pictured Below)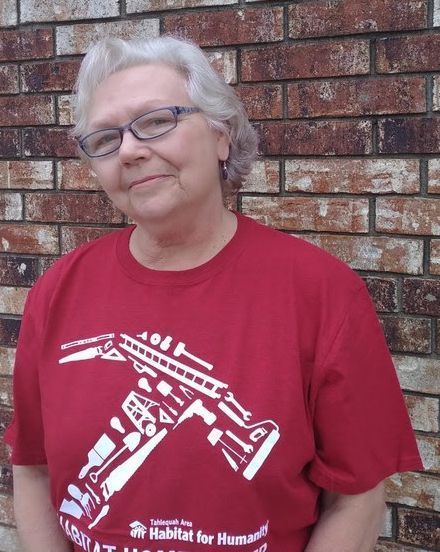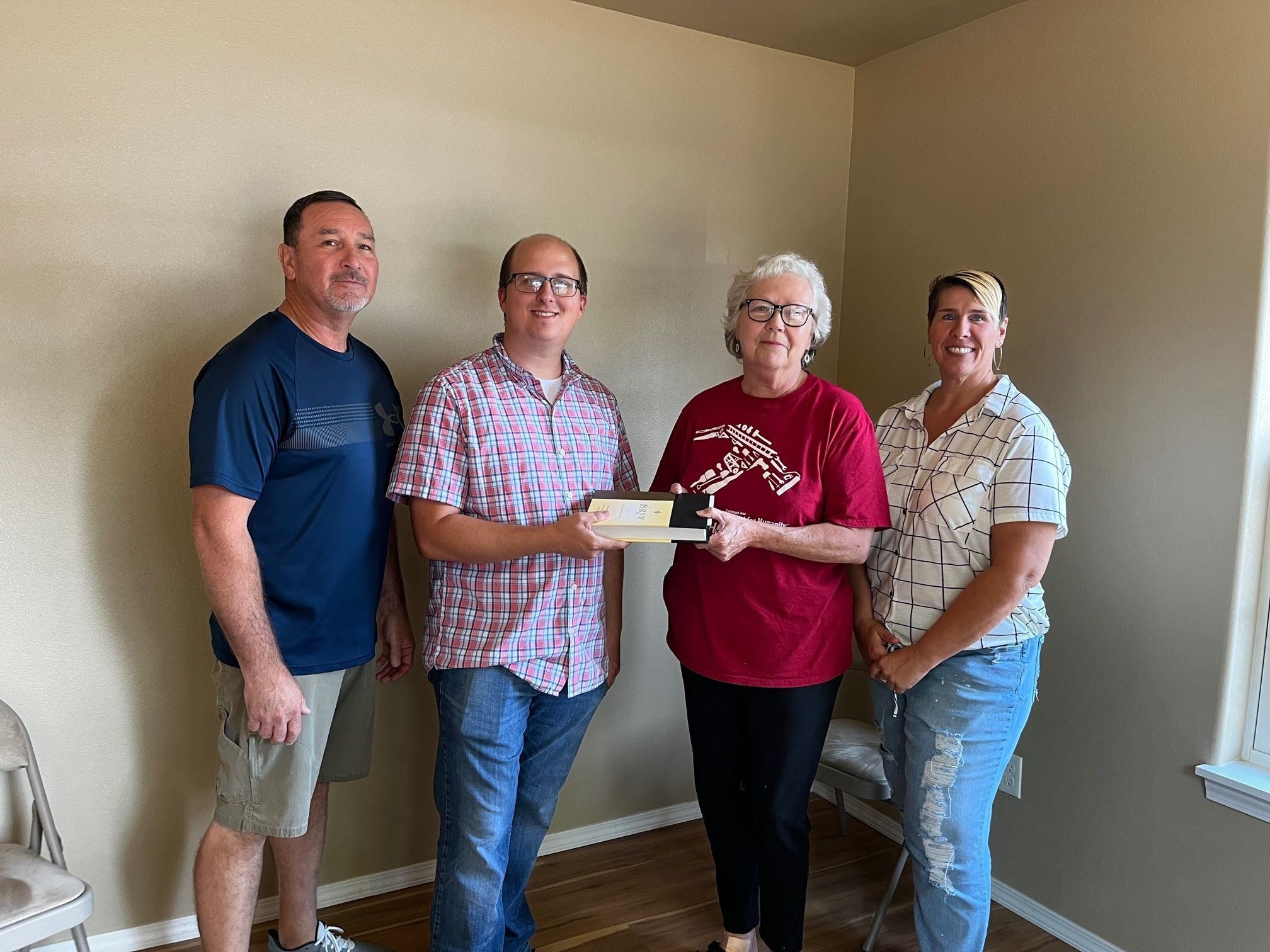 Habitat celebrates blessing for House 31. Photo above: Pastor Austin Troyer, TAHFH Board Chaplain, presents a Bible to homeowner Pam Brown at the House Blessing held Saturday.  From left are Mike Brown, construction supervisor for Muskogee Habitat for Humanity, Pastor Troyer, Pam Brown and Dana Kellner, TAHFH board secretary.
House #30 Completed (November 2021)
Stephanie Lewis (below) is the proud owner of House #30, which was completed in November 2021.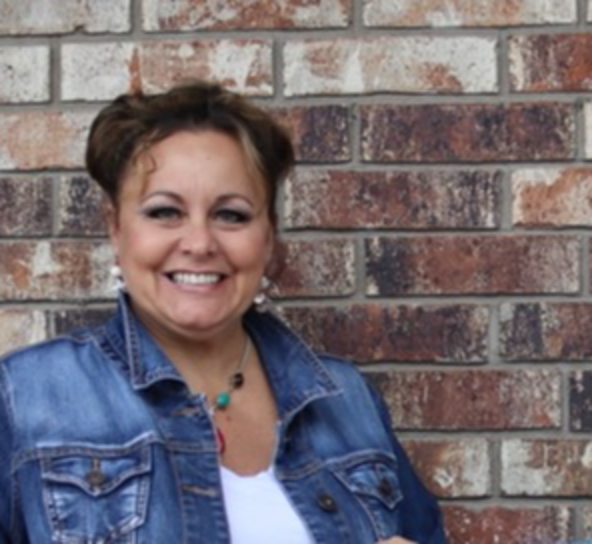 Air Force National Guard Helps Build House #30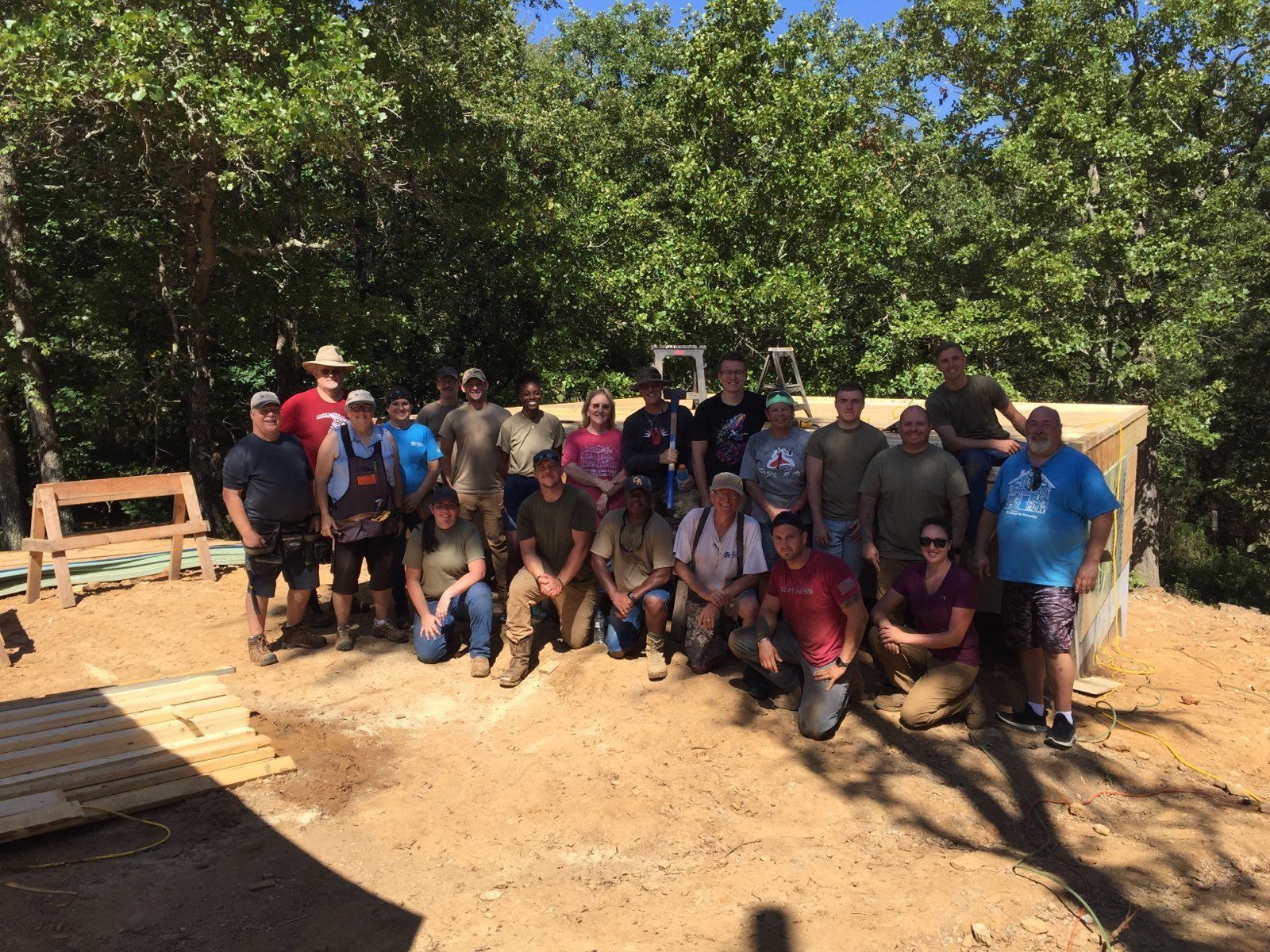 Photo above: Front l-r TSgt Gayle Wilkinson, SSgt Greg Pressley, TSgt Jimmie Brown, Volunteer Ron Sheridan, TSgt Will Carlisle, and SSgt Jacklyn Perrie.  Back l-r Volunteers Bruce Koski, Bob Gardner, Deb Gregor, Kiowan Gardner, SSgt Ernst Visscher, TSgt Garrett Smith, A1C Kalia Okoll, TAHFH director Linda Cheatham, SSgt Millard Morgan, SrA Jacob Louffer, Volunteer Brenda Morgan, A1C Danny Pierson, SSgt Tom Zandarski, SrA Jonathan Lynch and Habitat Construction Supervisor Ty Hemken. 
Medical Students Help Habitat (July 2021)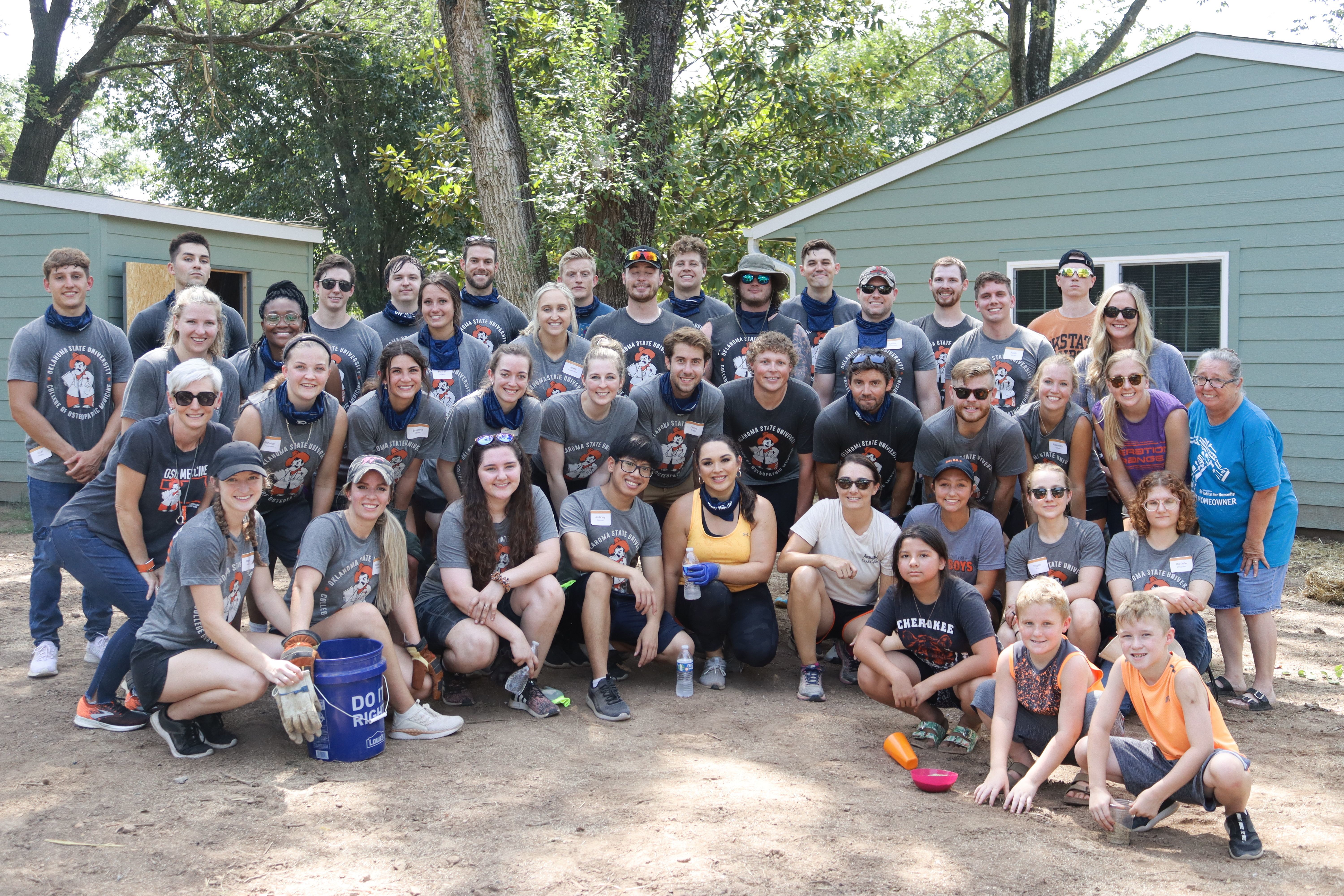 First year medical students and instructors from the Oklahoma State University Center for Health Sciences and the Cherokee Nation put the final touches on the yard for Habitat House #29 for Diana Jolly-Collins.  After construction is complete, it is necessary to rake out the lumps, seed the lawn and cover with straw so the grass will grow back in.  
Above: Children in front, l-r right are Sitlali Coats, Mason Coats and Liam Coats.  Medical students front, from left are Megan Trammel, Madeline Draper, Makenzie O'Kelley, Tony Nyguen, Kristen Bene, Ashton Gatewood, 
Caitlin Cosby, Kaylin Ray and Danielle O'Connor.  Second row from left are Dr. Natasha Bray, Michalah O'Connell, Breanna Sharp, Katherine Cox, Katie Tucker, Pedro Braga, Hunter Park, Nick Richardson, Cole Grimes, Alex Elmore, Kenzie Enmier,  and Habitat Homeowner Diana Jolly-Collins.   Third Row from left are Cassie McCoy, Brittini Bland, Rachel Wilkins, Jordan Lowrimore, Derek McGuire, Austin Vaclaw, and Angela Bacon.  Back row, l-r are Chet Rotton, Del Perkins, James Graham, Robert Millhollon, Michael Raischel, Hunter Moody, Jason Webb, Ryan Newhardt, Charles Calvin Sizemore and Colton Smith.
Visit Habitat at Norris Park on July 10, 2021
Visit us at Norris Park for Movies in the Park on July 10, 2021, from 5-8 p.m.
House Blessing Event for House #29 occurred on June 12, 2021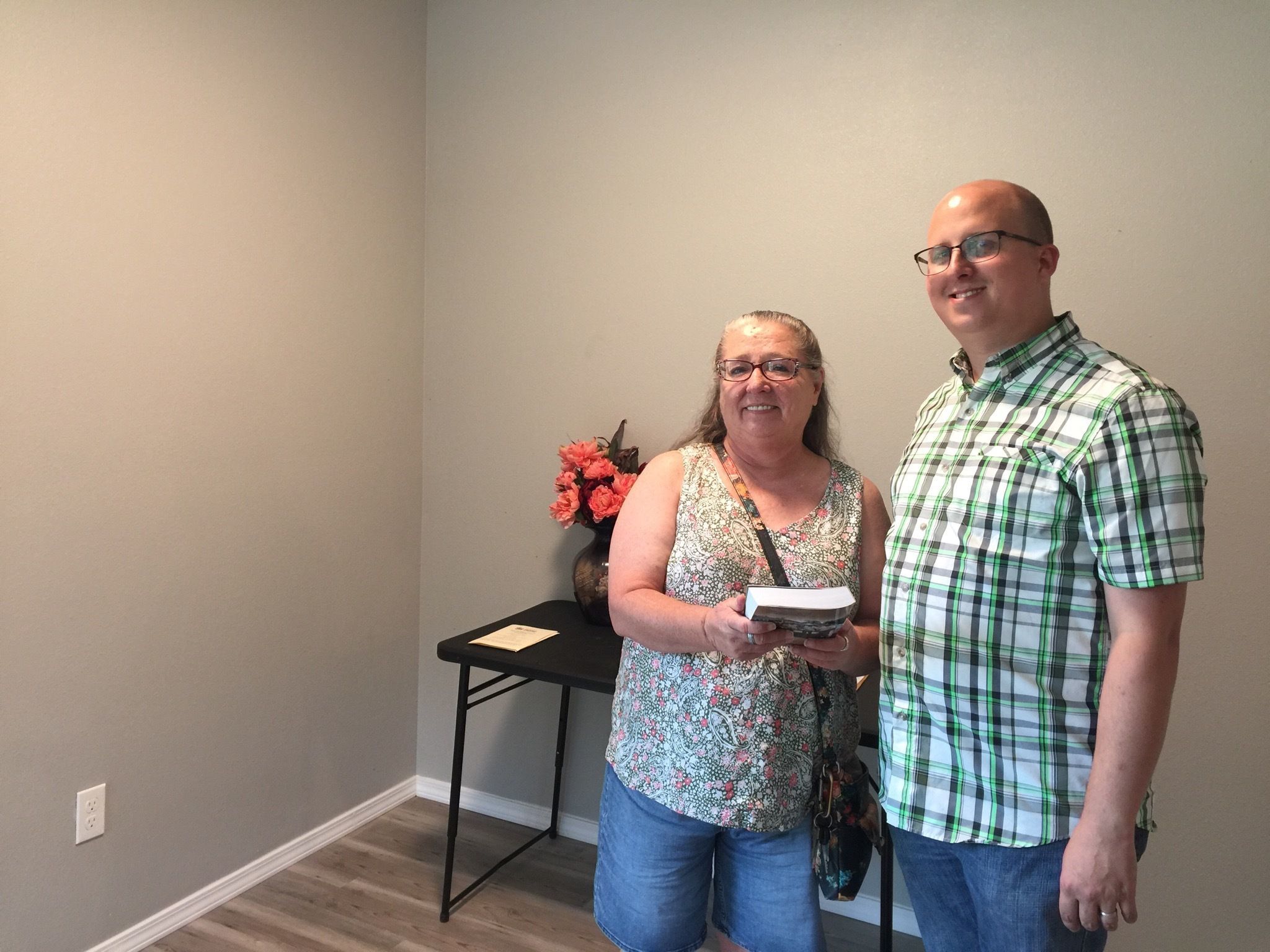 Above: Pastor Austin Troyer presents a Bible to Habitat homeowner Diana Jolly-Collins at the House Blessing on June 12, 2021.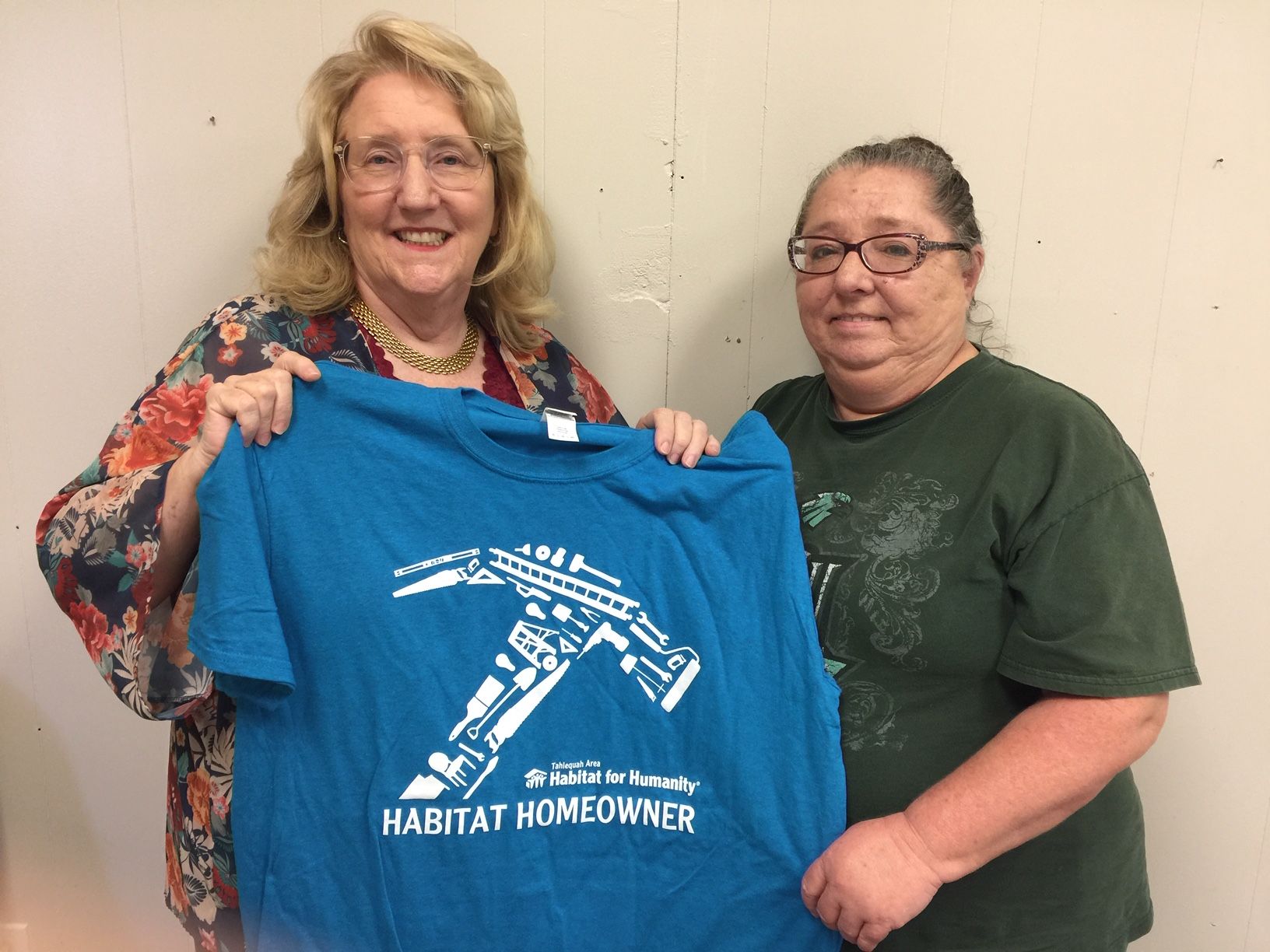 Above: Diana Jolly-Collins (right) and Linda Cheatham, Executive Director (left).
Diana Jolly-Collins is the proud homeowner of House #29.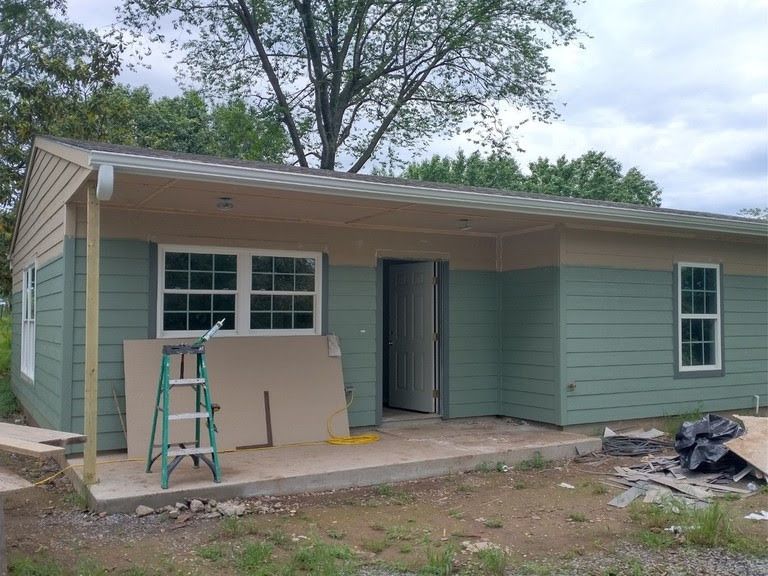 Groundbreaking for the New ReStore took place on December 7, 2020
In August 2017 TAHFH Director, Linda Cheatham, began the process of acquiring a Community Loan with the U.S. Department of Agriculture to build a new ReStore. The loan is geared toward rural towns with populations of less than 20,000, like Tahlequah. In October 2020 we were approved for both a loan and grant to begin construction of the new ReStore, which we hope to open in late summer of 2021. The new ReStore will be located at 17165 West Mud Valley Road (SW corner of Mud Valley Road and Highway 51 Bypass). Once the new ReStore is open, we plan to move the Rack clothing store (across from the Tag Agent) to the ReStore location currently on the corner of First Street and College Avenue. This will nearly double the square footage of the Rack clothing store.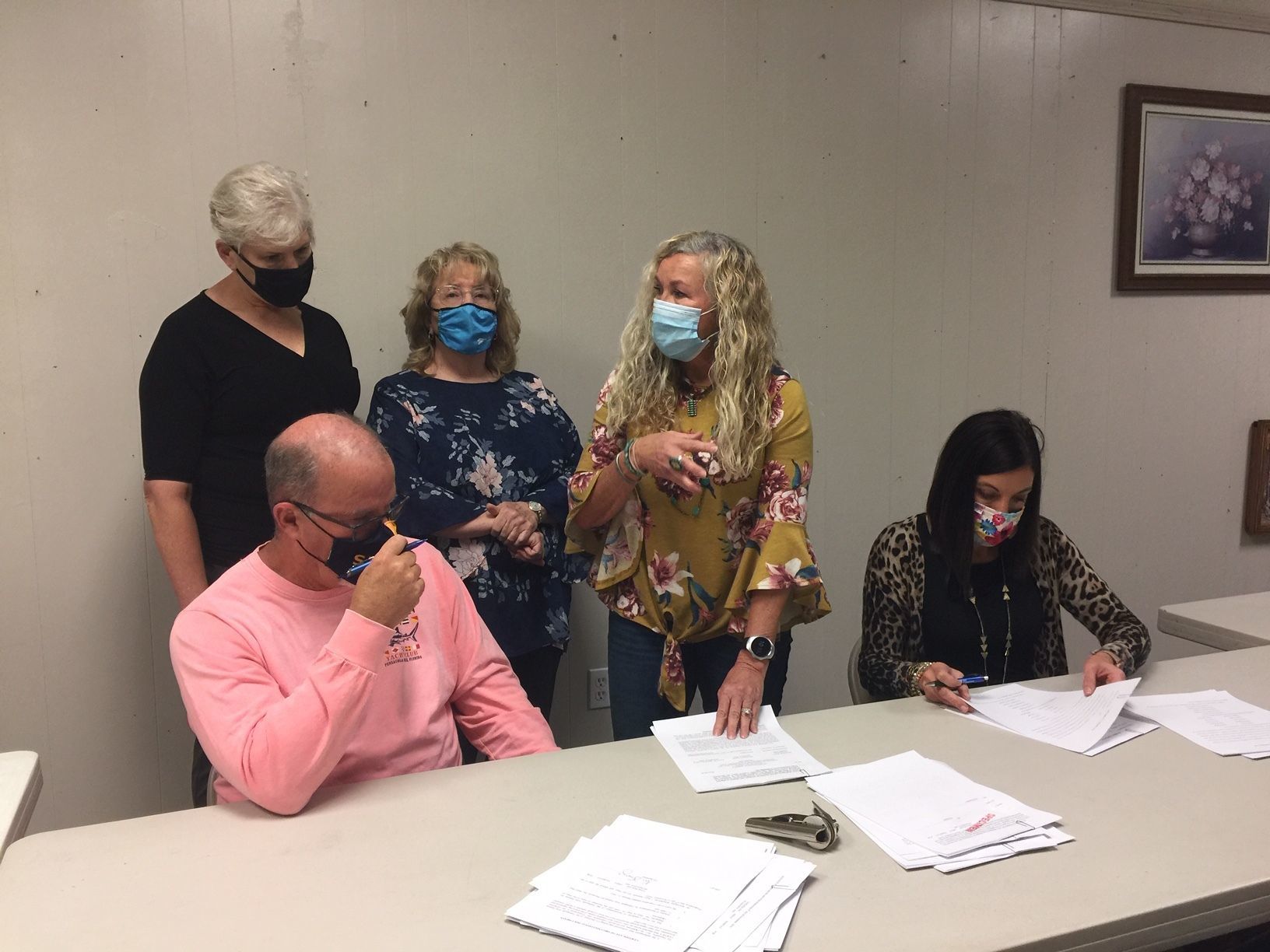 Pictured above: Seated are Kin Thompson, TAHFH co-secretary (left) and Jennifer Lynn, President (right), signing loan papers for the new Habitat ReStore. Standing are Nan Jones, ReStore committee chair (left), Linda Cheatham, TAHFH executive director (middle), and Christy Shepherd (right) from the Public Finance Law Group, PLLC.
Below (March 2021): The National Civilian Community Corps (NCCC) is an AmeriCorps program that engages individuals from 18-24 in team-based national and community service in the United States. Under the CARES act the maximum age of entry is 26.  Below are members of the Earth 2 NCCC team installing siding on Habitat House #29. From left are:  Hannah Beauregard, Abby Terry, Abagail Soto, Jaya Mandala, Abbie Leirstein and Tyler Caruso.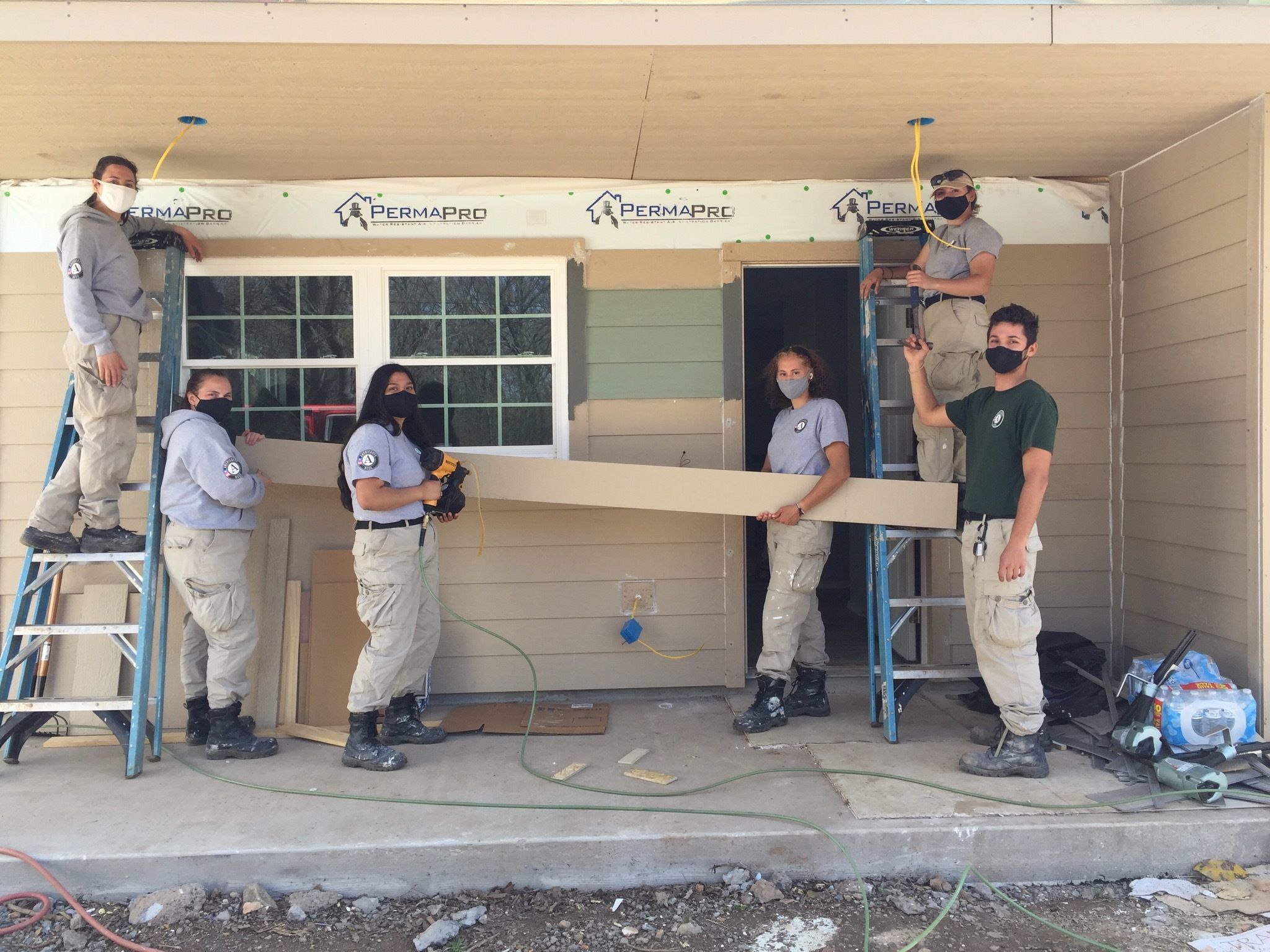 House #28 Completed August 2020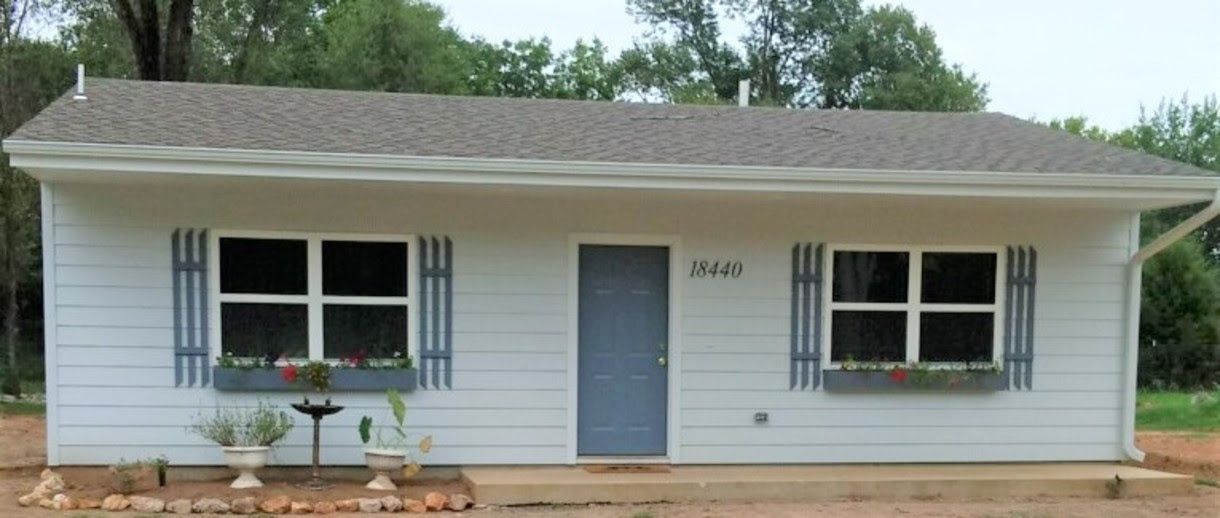 The House Blessing for House #28 took place on August 21, 2020. Congratulations Dawn LeForce (pictured below), who is the proud homeowner of House #28.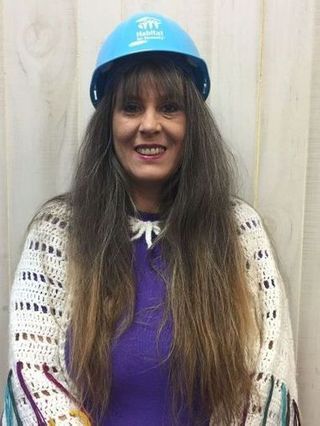 Tiki Treats Brought Refreshments to House #28 Worksite
Tiki Treats visited the House #28 work crew with sno-cones on July 20, 2020. The sno-cones were enjoyed by all!
House #28 under construction in June 2020 (below):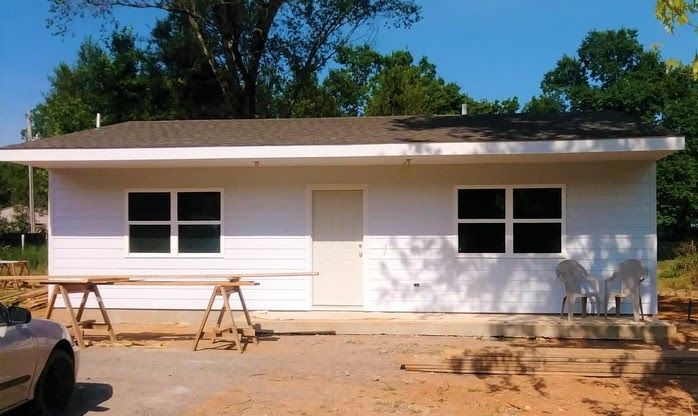 Congratulations Tanya Jones
Tanya Jones, TAHFH Board Member and Director of Tahlequah Public Schools' federal programs and Indian education, has been named the 2020 Oklahoma Association of School Administrators District 11, Assistant Superintendent/Central Office, Administrator of the Year.
TAHFH on the Radio
Tulsa Public Radio reports that TAHFH is back to work with Federal Coronavirus Stimulus Money.
Women Build Event Volunteers (pictured below), March 7, 2020: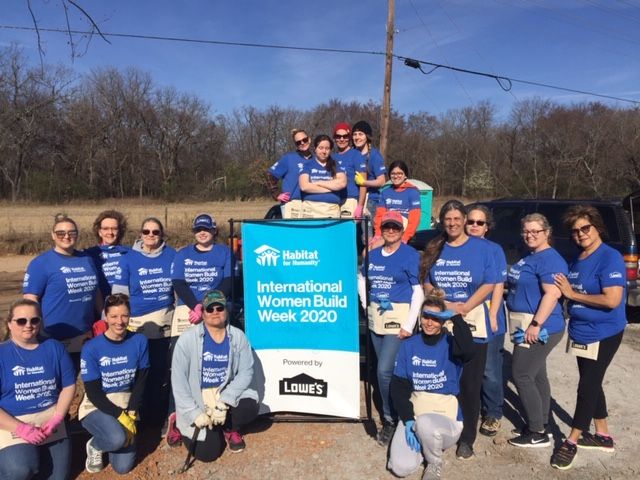 Raising the first wall of House #28 during the Women Build Event on March 7, 2020 (below):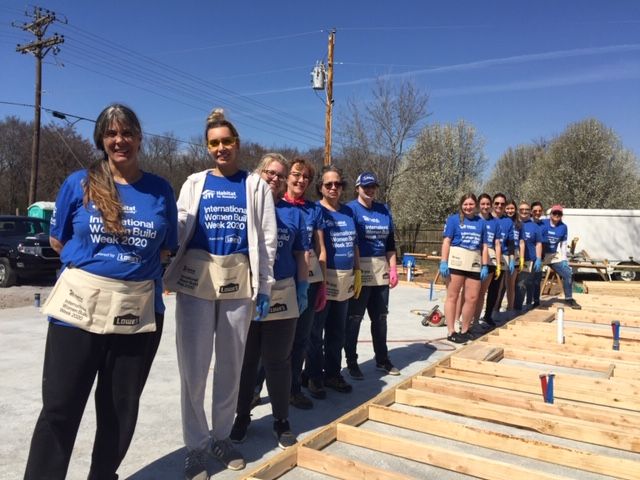 Day of Service in Honor of Martin Luther King, January 20, 2020
Below Photo: Members of Alpha Omicron Pi Sorority worked at the Tahlequah Habitat ReStore, giving a Day of Service in honor of Martin Luther King. Back row: Maycee Torix, Chole Leonard, Emma Chasteen, Sara Wilson, Caitlyn Long, Trajan Lattimore.  Second row: Paige Anderson, Hayley Bandy, Aimee Wright, Lauren Richey, Kaitlin Root and Payge Wilson with Choli Moore in front. Tahlequah Area Habitat for Humanity offers community service opportunities for all persons interested in making a difference.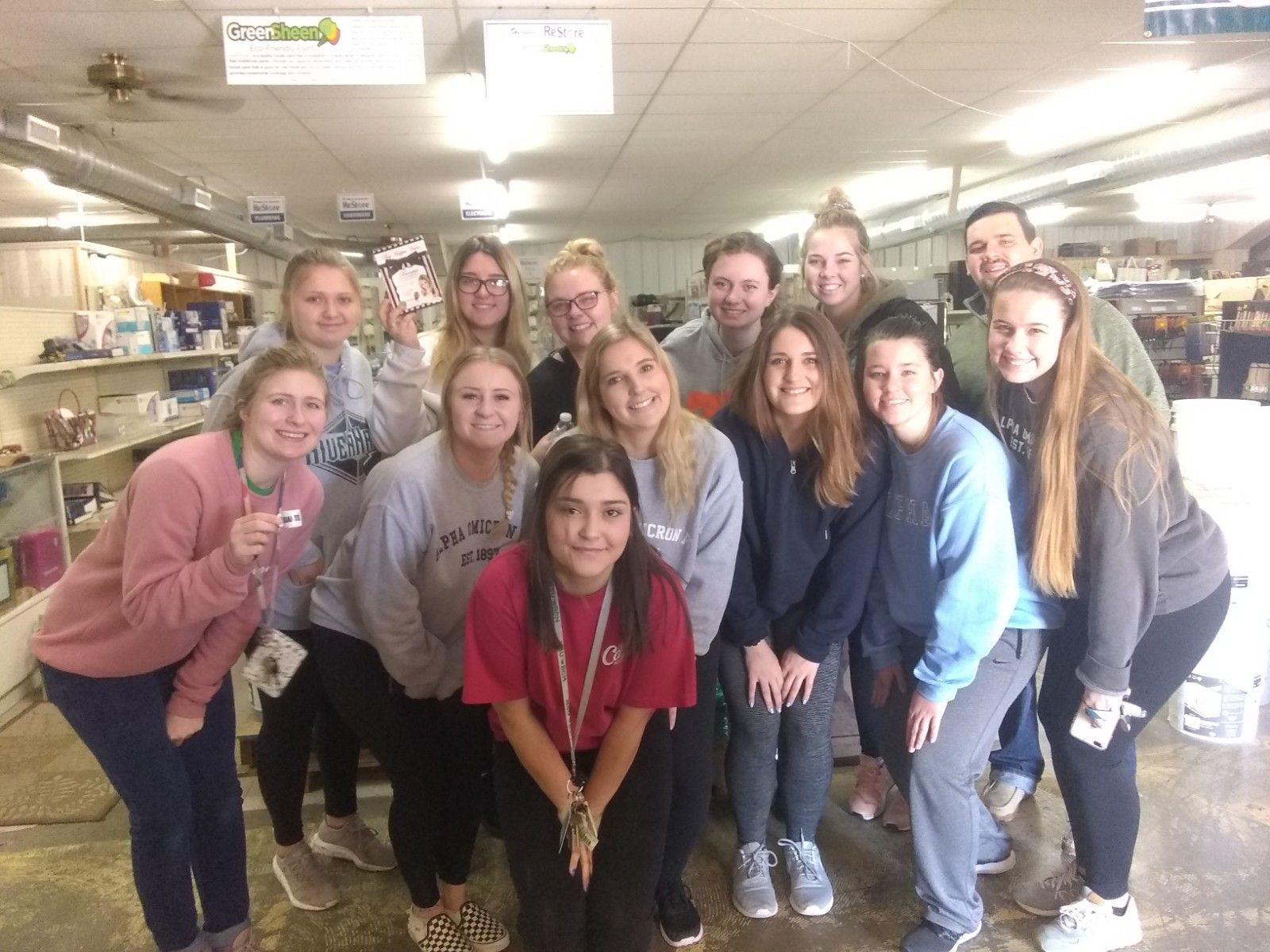 House #27
Below: Habitat House #27 owner is "Home for the Holidays" at the House Blessing on December 20, 2019. Photo Left-Right: Volunteer Russell Martin and Kathy Vanschuyver, sister of owner, watch as owner Ben Vanschuyver receives a Bible from  Rev. George Warren during the House Blessing.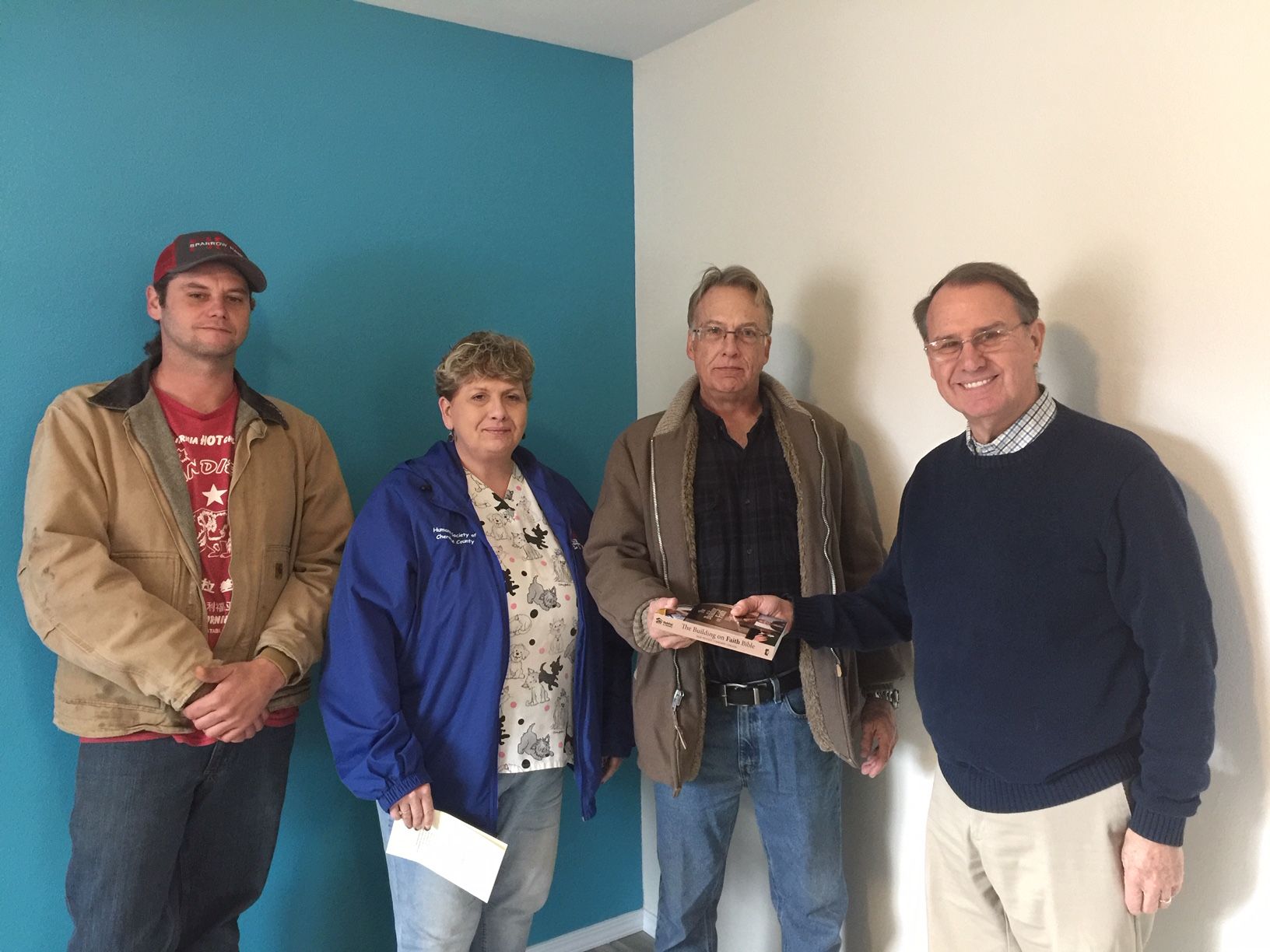 Below: House #27 completed December 2019. The House Blessing will take place at noon on December 20, 2019, and will be broadcast live on Tahlequah Area Habitat for Humanity's Facebook page.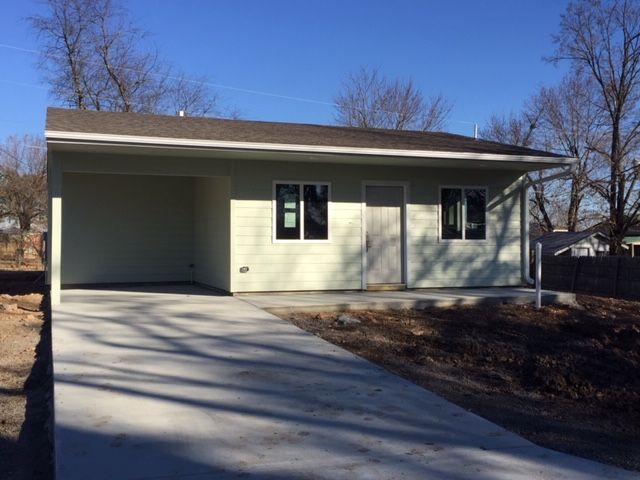 Below: TAHFH selected Ben Vanschuyver is the recipient of House #27 at 1206 Maple Place, Tahlequah. Work on House #27 began September 3, 2019.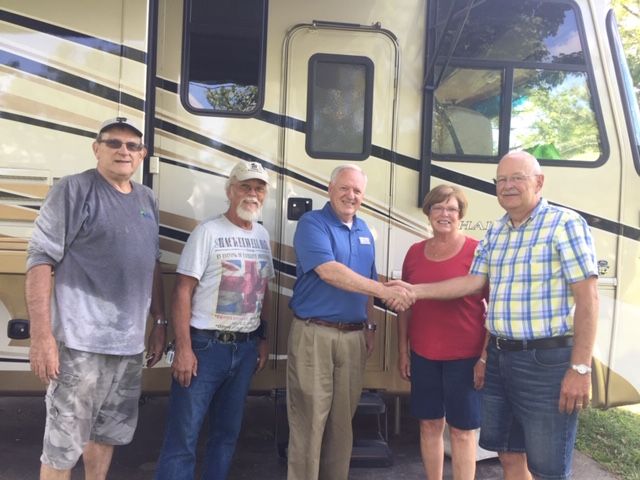 Below: Volunteers and construction supervisor, Ty Hemken, build walls in early September 2019 for House #27.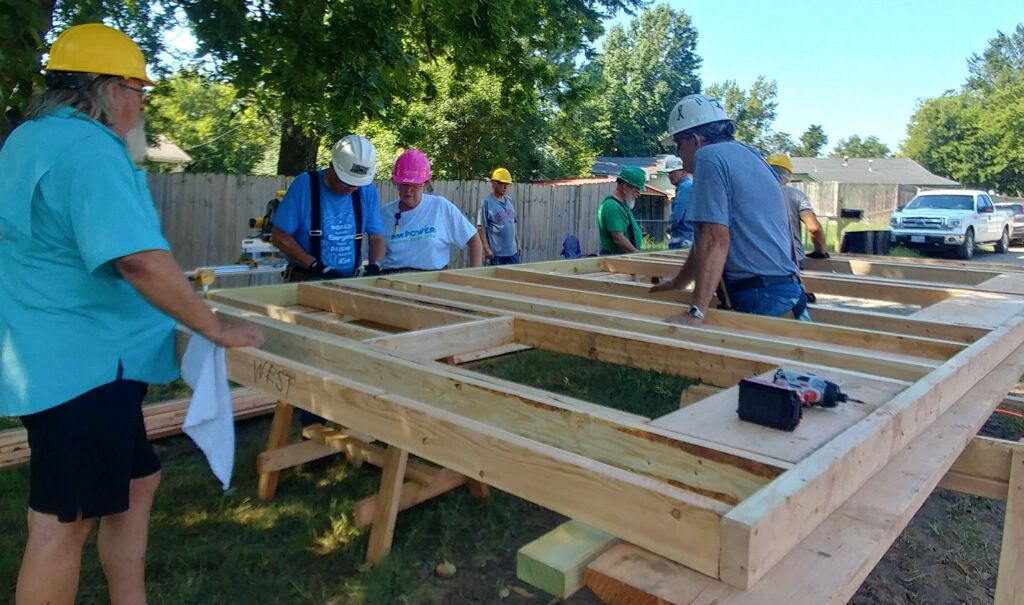 Below: Construction Supervisor Ty Hemken on right gives instructions to Habitat House #27 homeowner Ben Vanschuyver on how to hang siding.  From left are volunteers Carolyn and Dan Banks, and Vanschuyver and Hemken.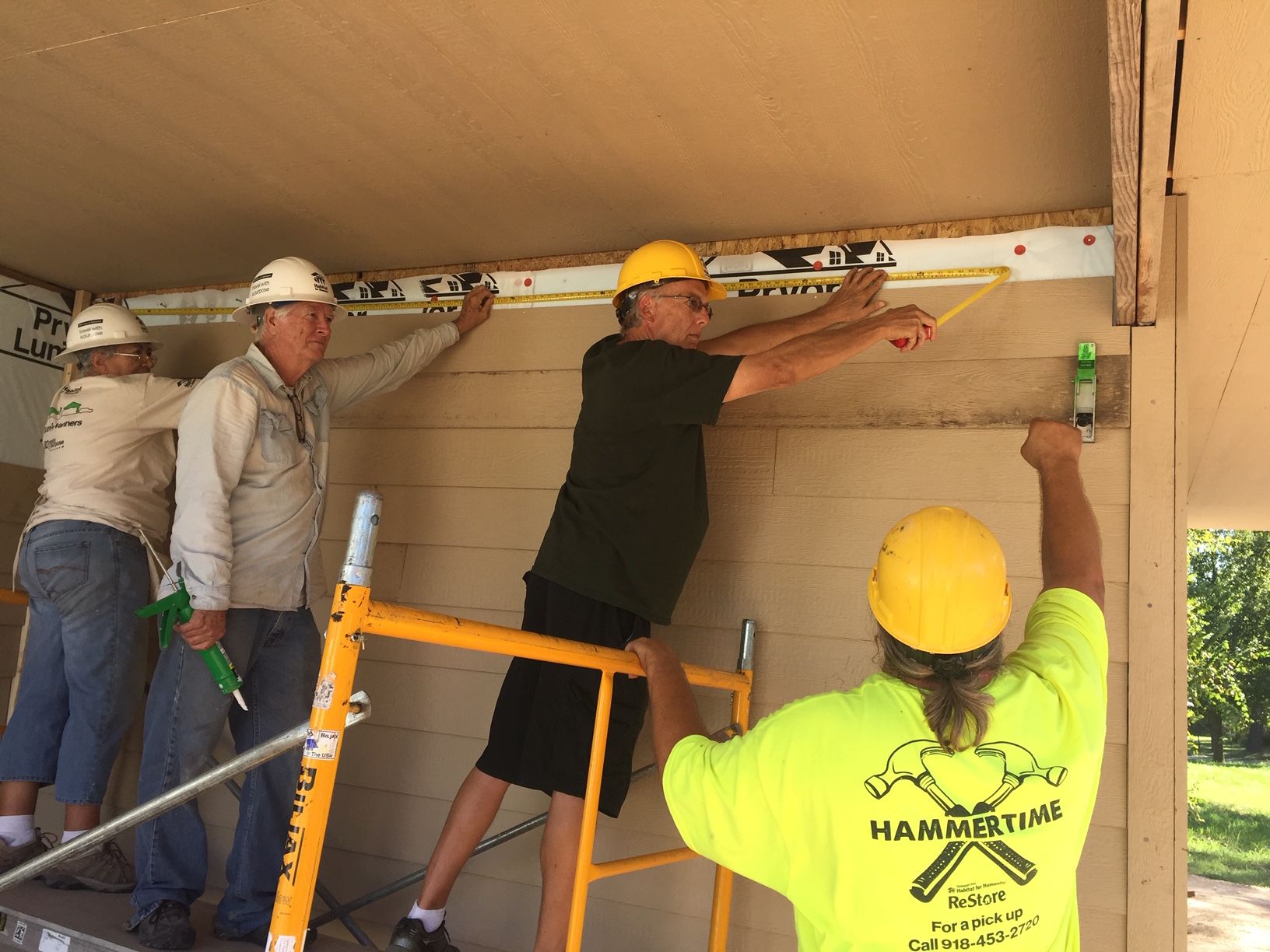 September 2019 Home Repair
Volunteers work on a home repair for David and Heidi Auguston, by installing siding on their house (below).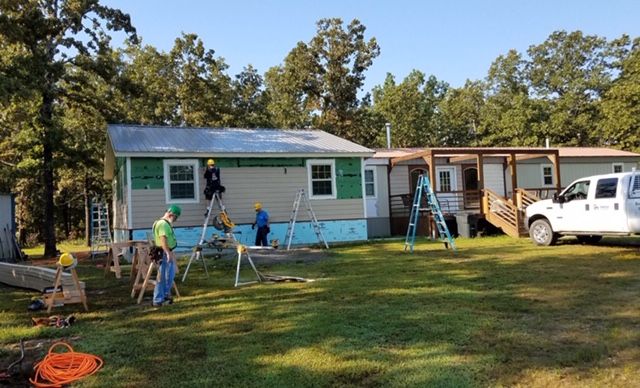 Habitat House #26
Tahlequah Area Habitat for Humanity held a House Blessing on June 8, 2019, for House #26, which was completed in June 2019 for John and Karen Molt (pictured below)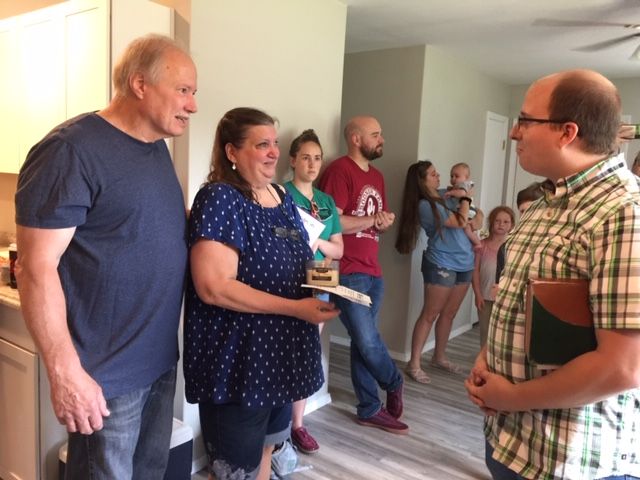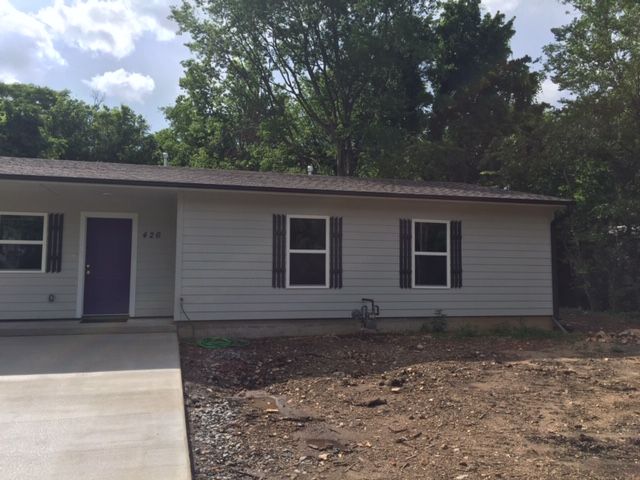 Below Photo:  Clockwise from left, Habitat Board members Kin Thompson and Jennifer Lynn prepare to sign affordable mortgage papers with Karen Molt and John Molt, owners of Habitat House 26, with assistance from closer Whitney Trammel at Green Country Abstract and Title.  The Habitat Christian Housing Ministry includes an interest free 2nd Mortgage that homeowners don't pay unless they sell their house during the first 20 years.  The 2nd Mortgage is the value of the volunteer labor that is used to help build the house.  The first mortgage is funded by the USDA Rural Development for below market interest.
Vista Volunteers Assist Habitat
Tahlequah Habitat for Humanity was awarded two AmeriCorps Vista positions for the summer of 2019 to help in the ReStore and with Habitat projects in the community.
AmeriCorps strengthens communities and develops leaders through national service by helping national and state parks, Native American tribes, schools, municipalities, and nonprofit faith-based based organizations such as TAHFH.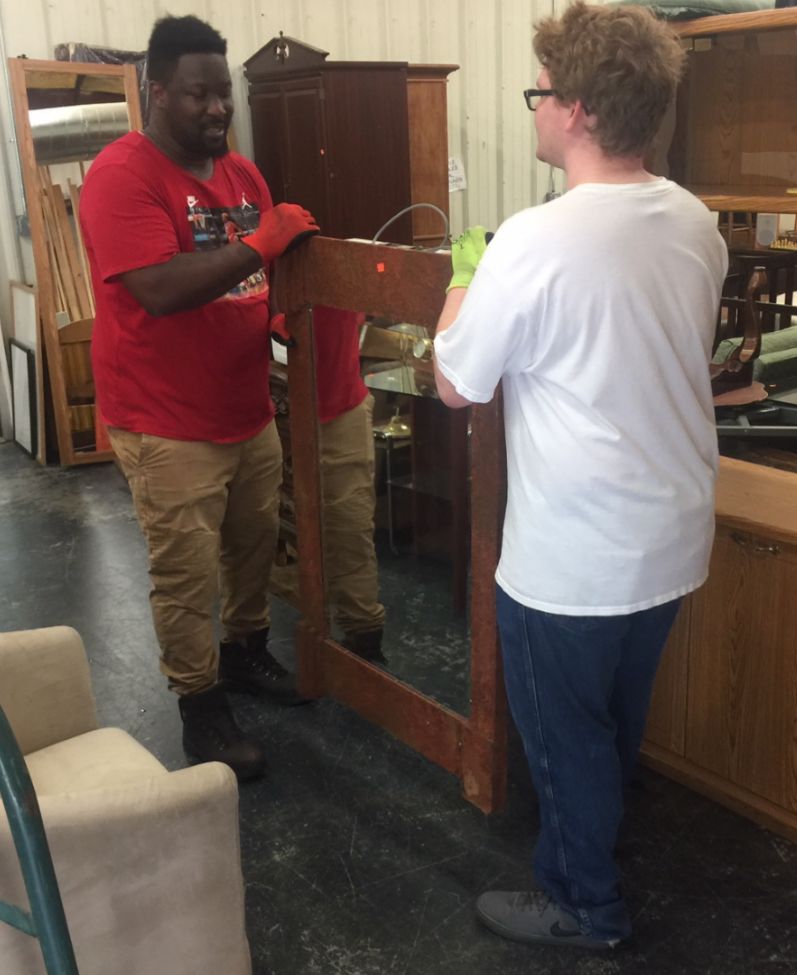 Spring 2019 Gala
The Spring Gala, which took place on April 5, 2019, at the Tahlequah Armory Municipal Center, was a great success.  Fun was had by all!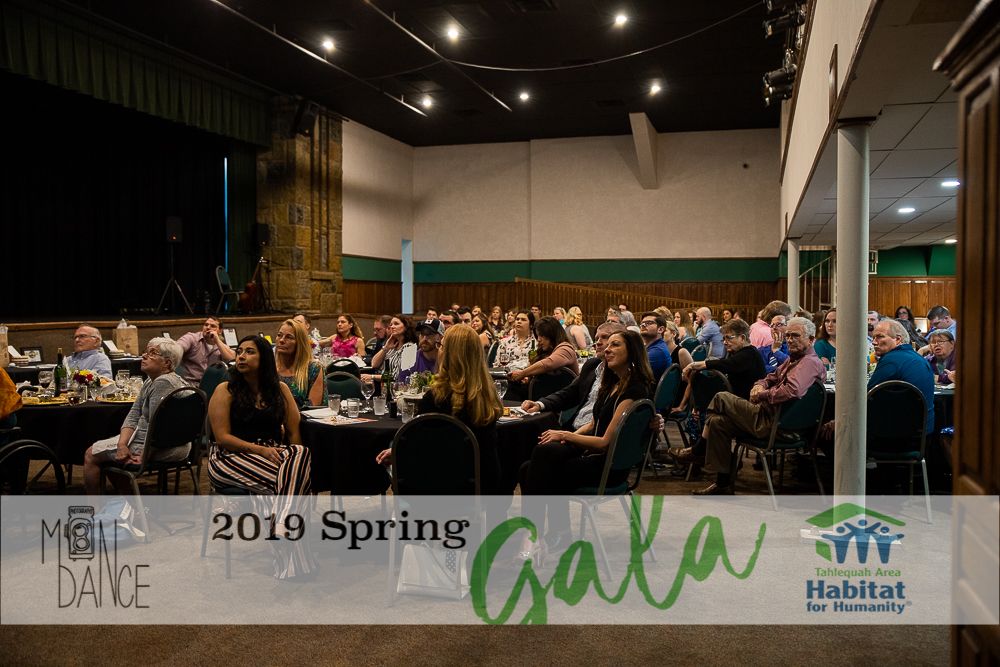 Cara-A-Vanners Helping Build House #26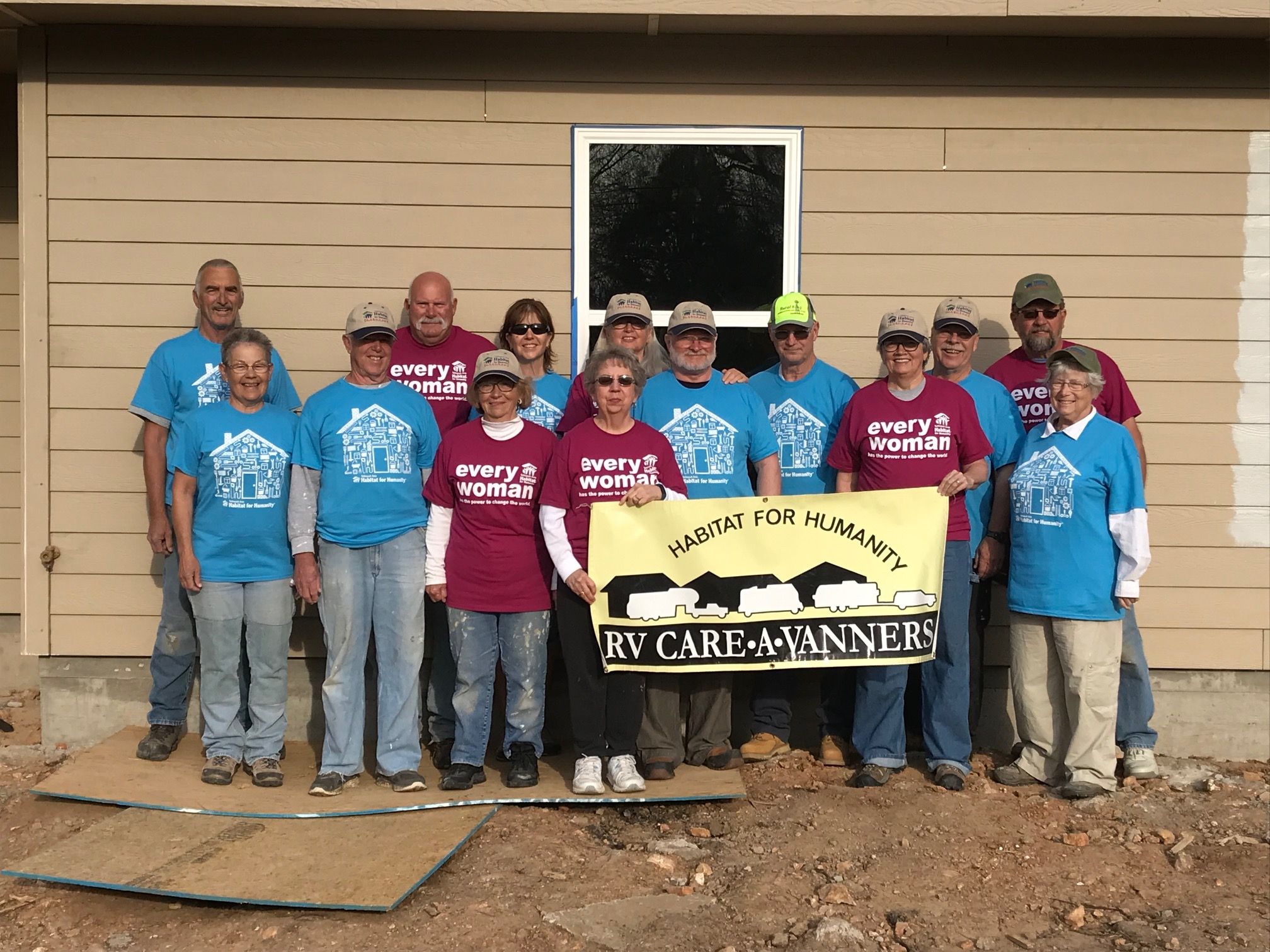 Church of the Nazarene Gives to TAHFH
Tahlequah Church of the Nazarene gives $950 to TAHFH, March 7, 2019. Pictured below: Austin Toyer, Pastor of Tahlequah Church of the Nazarene, and Linda Cheatham, Director of Tahlequah Area Habitat for Humanity.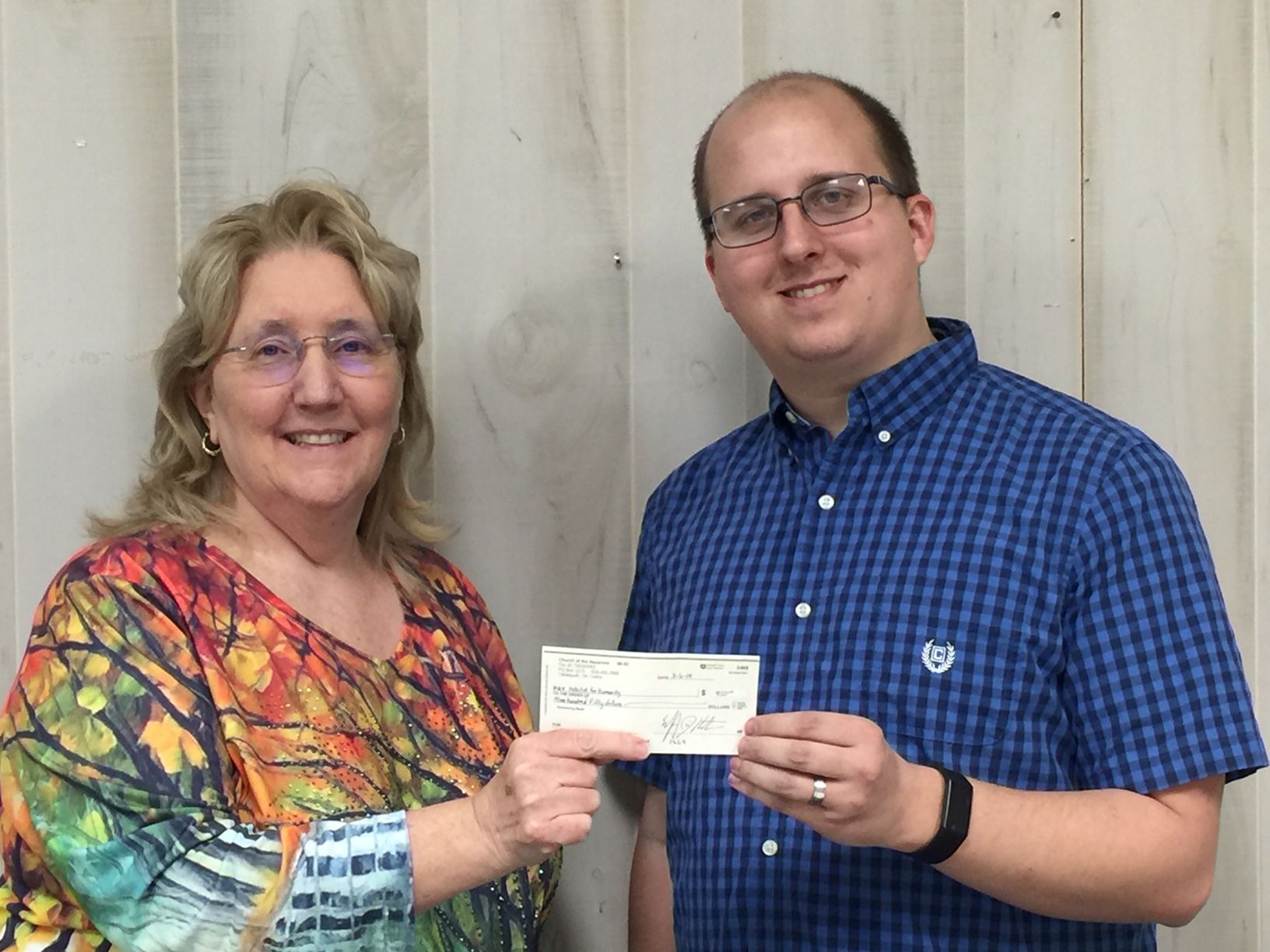 Cherokee Nation Donates $10,000 to TAHFH, February 27, 2019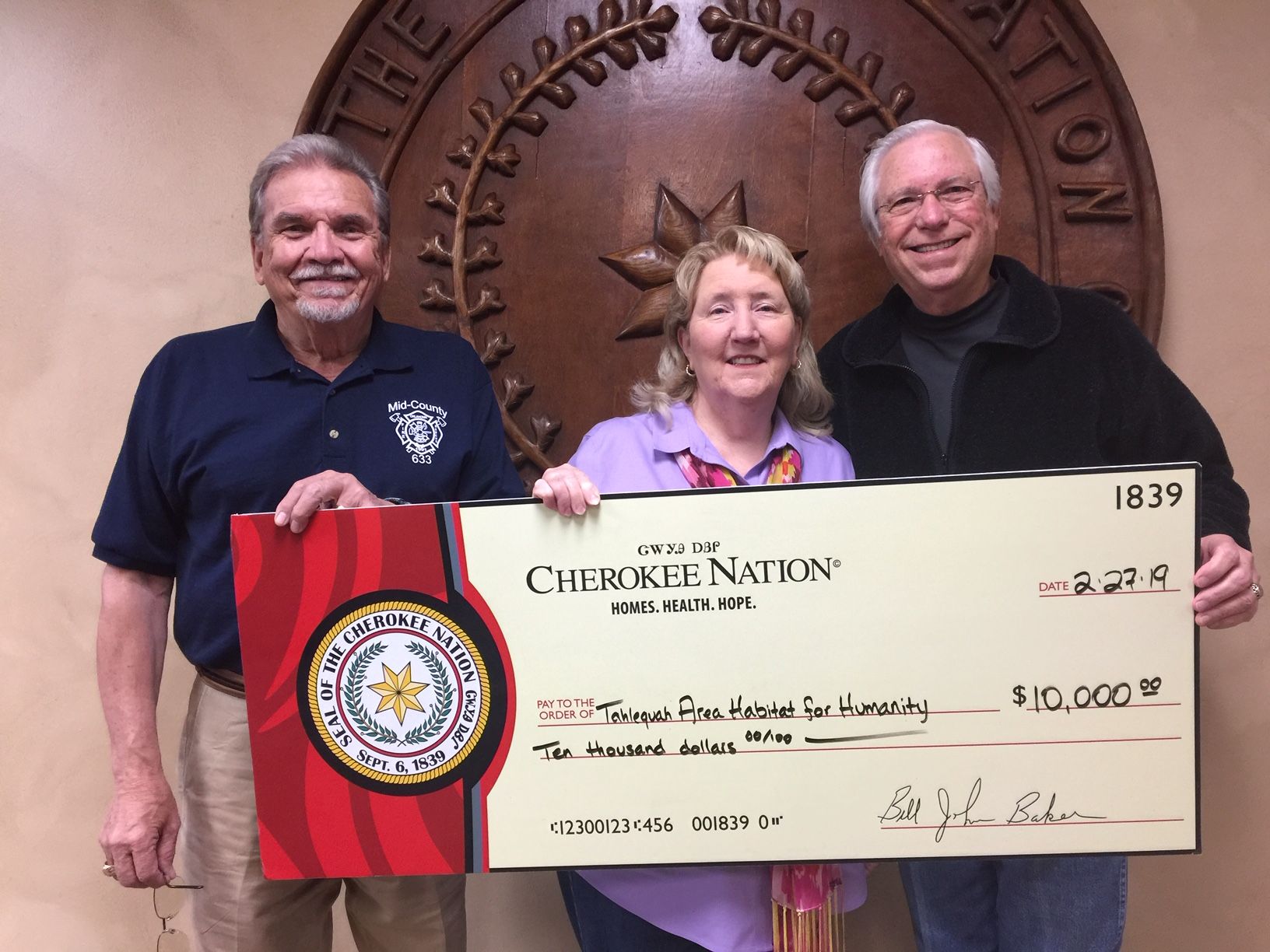 Pictured above (left to right): S. Joe Crittenden (Deputy Chief of the Cherokee Nation), Linda Cheatham (Executive Director, TAHFH), and  Bill John Baker (Principal Chief of the Cherokee Nation).
Walmart Donates $500 to TAHFH
We are excited to announce that Tahlequah Area Habitat for Humanity received a $500 grant from Walmart!
TAHFH Welcomes AmericaCorps NCCC "Earth 5" Team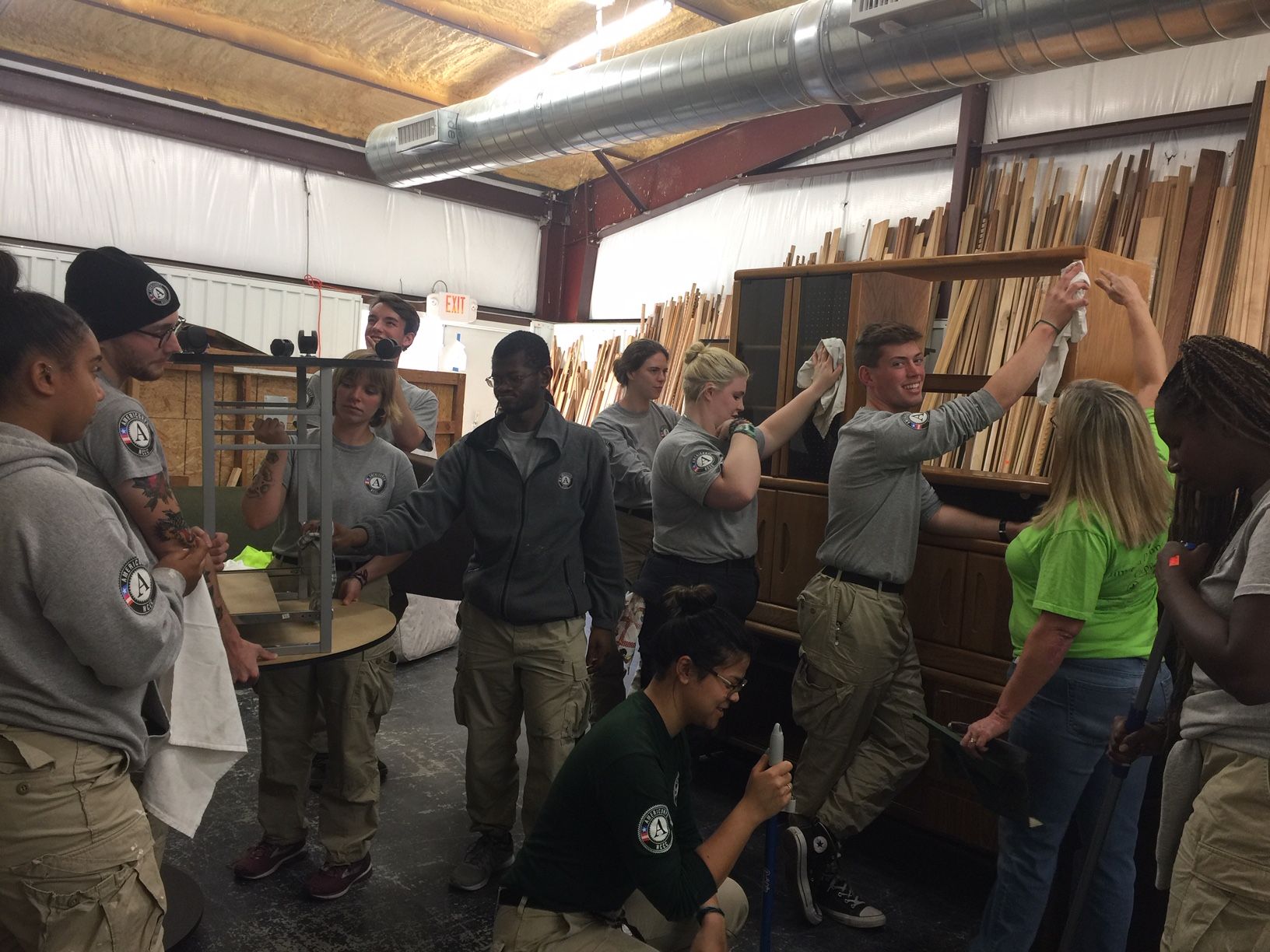 Above: Members of AmeriCorps NCCC "Earth 5 Team" arrived on January 6, 2019, to do volunteer work for Tahlequah Area Habitat for Humanity (TAHFH).
Cherokee Nation Donates $10,000 to TAHFH
On August 28, 2018, the Cherokee Nation donated $10,000 to Tahlequah Area Habitat for Humanity.  The donation is part of the Cherokee Nation's initiative to be good partners within our community, by providing assistance to worthwhile causes that provide valuable services to the community and Cherokee Nation citizens.
Cherokee County Firefighters Association (CCFA) Presents Checks to Non-Profit Agencies in Tahlequah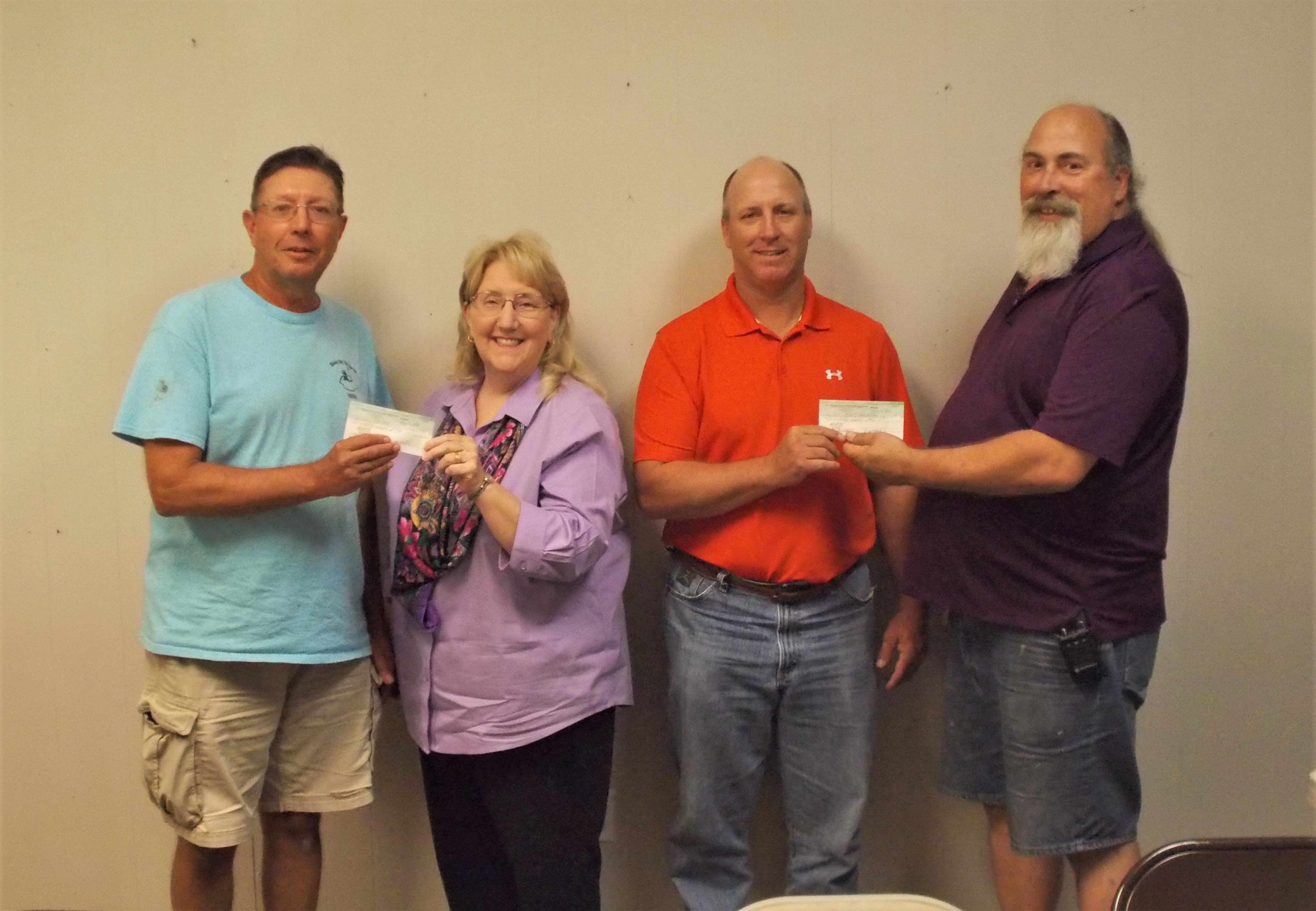 From left to right: Wally Armstrong, CCFFA Treasurer; Linda Cheatham, Executive Director for Tahlequah Area Habitat for Humanity; Dennis Kelley, CEO Boys and Girls Club of Tahlequah; and Ty Hemken, CCFFA Chairman.
For the second year the Cherokee County Firefighters Association (CCFA), in conjunction with Cherokee Nation, has raised funds for local non-profit agencies through the Boots on the Green golf tournament, which was held this year on May 18, 2018, at Cherokee Springs.  Association members nominated non-profit agencies, and then selected two agencies by vote.  "We are proud to be able to present these funds to agencies that help so many children and families in Tahlequah," said Hemken, Chair of CCFFA.  The tournament will be held again in May 2019 to raise funds for other organizations.  For more information go to the CCFFA Facebook page.  
Norris Retires and Duncan to Manage ReStore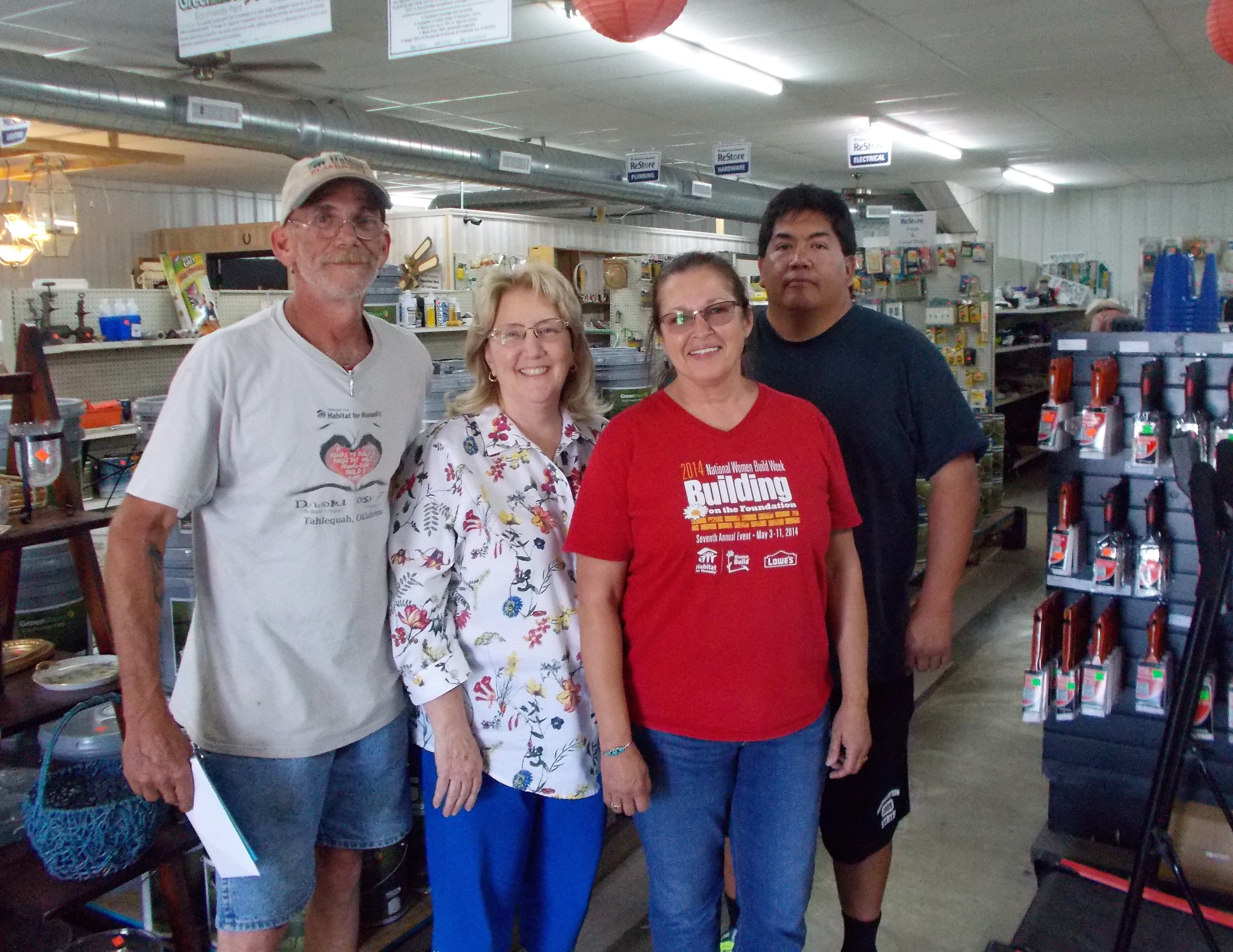 Keith Norris (far left) receives congratulations on May 29, 2018, as he retires from manager of the ReStore Home Improvement Store. Giving congratulations from left are TAHFH Executive Director Linda Cheatham, new ReStore manager Bronwyn Duncan, and new ReStore Assistant Manager Gabriel Mouse.
House #25 Completed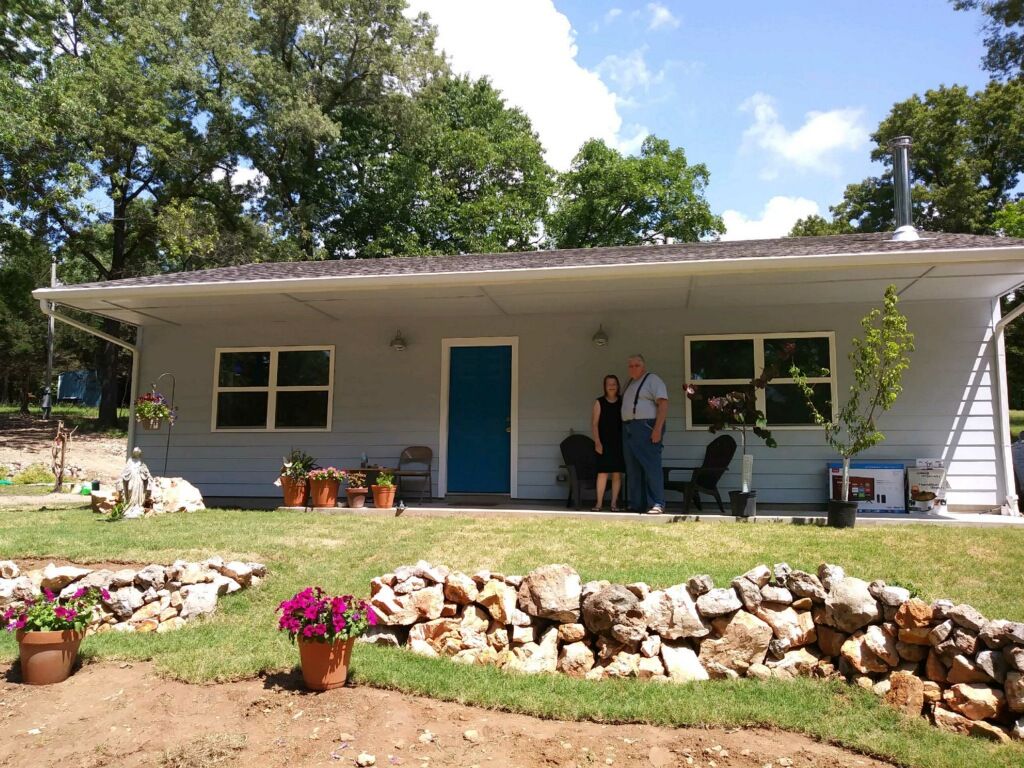 Congratulations to our Habitat Partners, Billie Paul and Kathleen Mills (pictured on the porch of House #25).  Construction on house began on February 21, 2018, and was completed in early May. The House Blessing took place on May 12, 2018.
Habitat volunteers and NCCC service workers prepare to build a porch and ramp for David and Joann Lancaster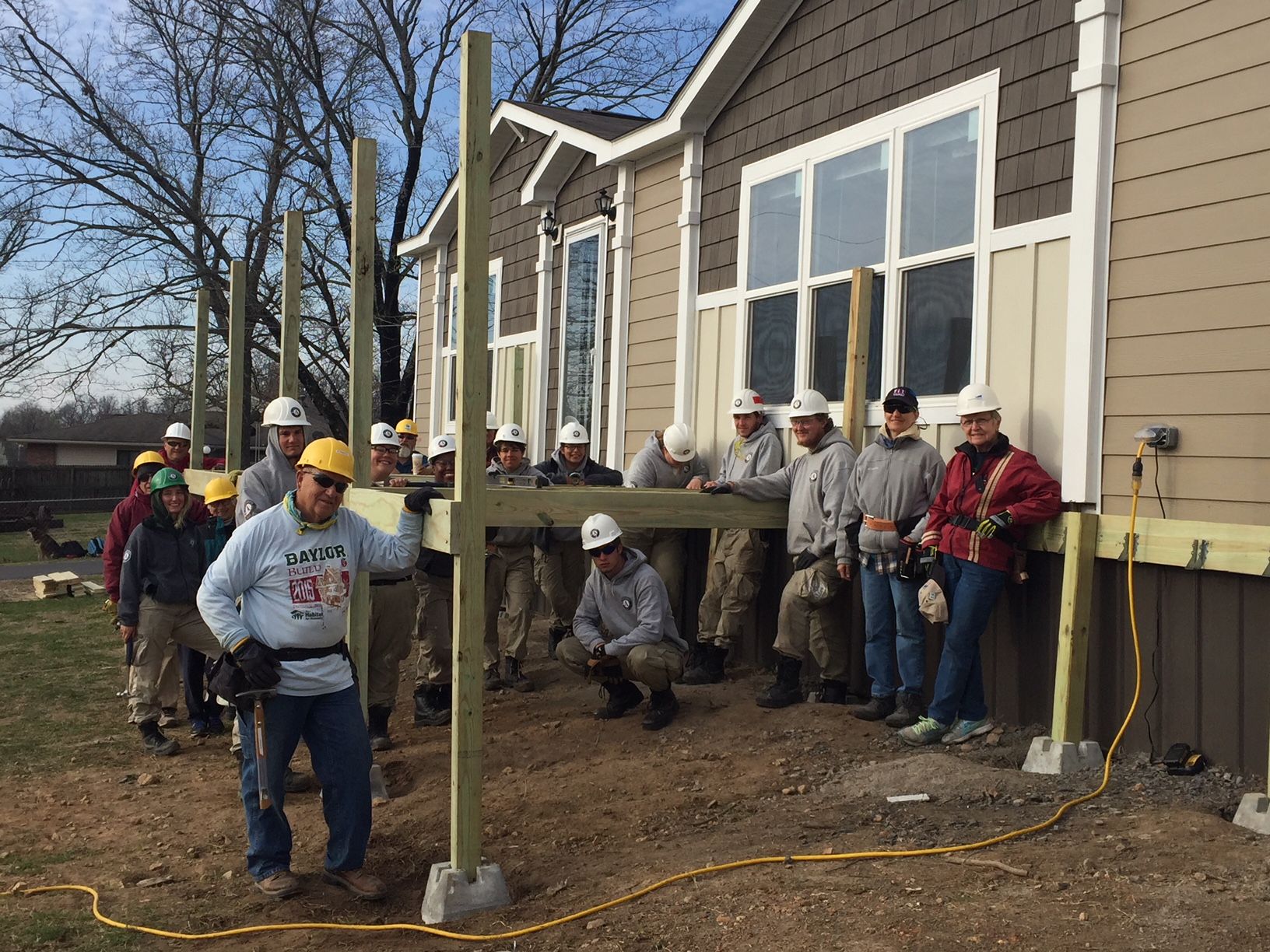 Above: Front to back on left are Fred Winslow, Mike Gugleilmo, Hedda Patzke, Lejla Bilanovic, Gary Patzke and Randall Mahaffey.  Front to back on right are Joan Thompson, Holly Hofmann, James Harrison, Austin Black.  Kneeling Kelson Buell. Center l-r Alexis Bakies, Ty Hemken, Ebony Eli, Richard Gold, Michael Bernard, Luz Corrales and Stephanie Dunton.  
Care-A-Vaners and Ty Hemken Work on a Ramp for the Lancaster Family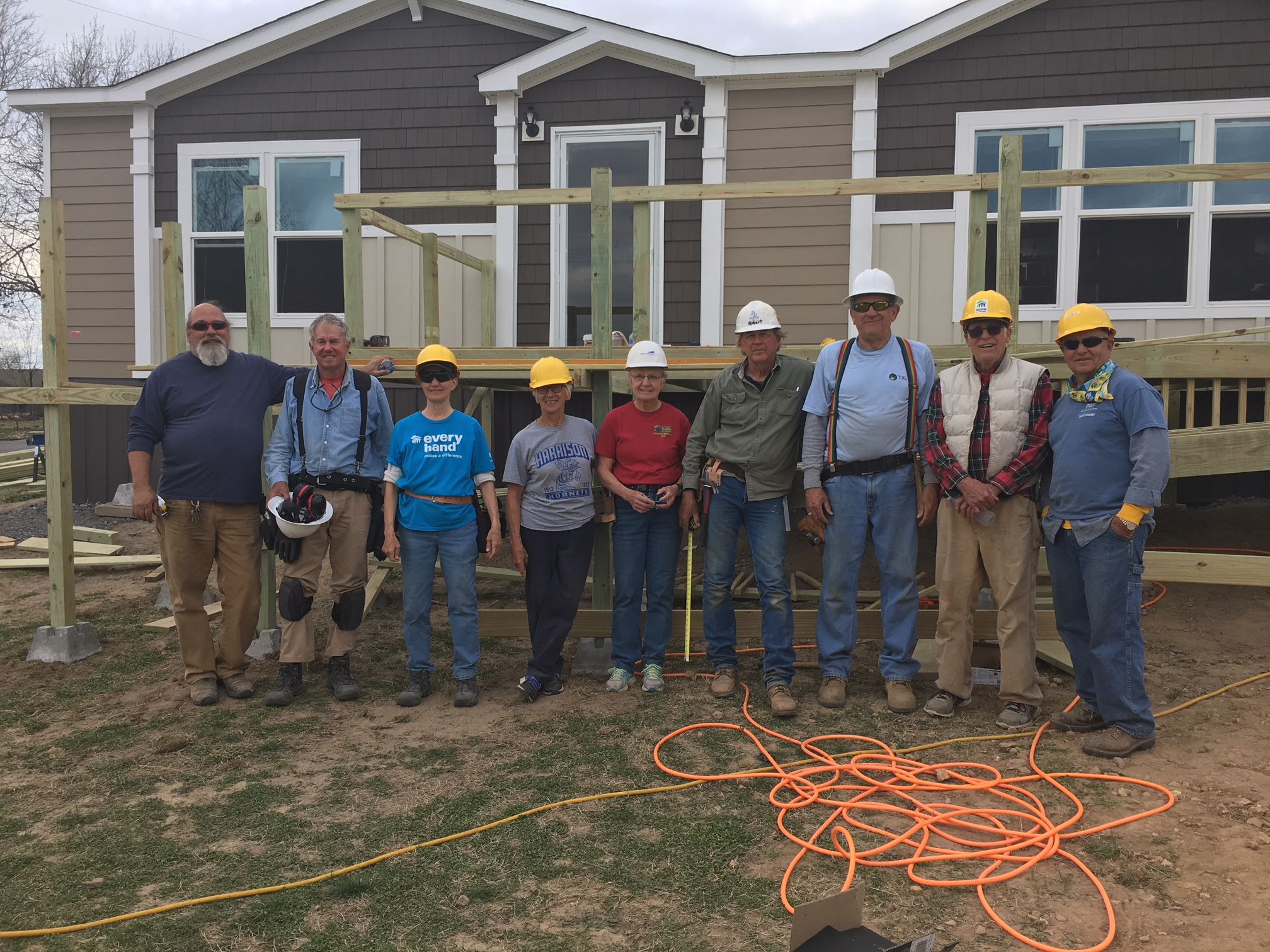 Iowa State University civil engineering students work on House #25 during their 2018 spring break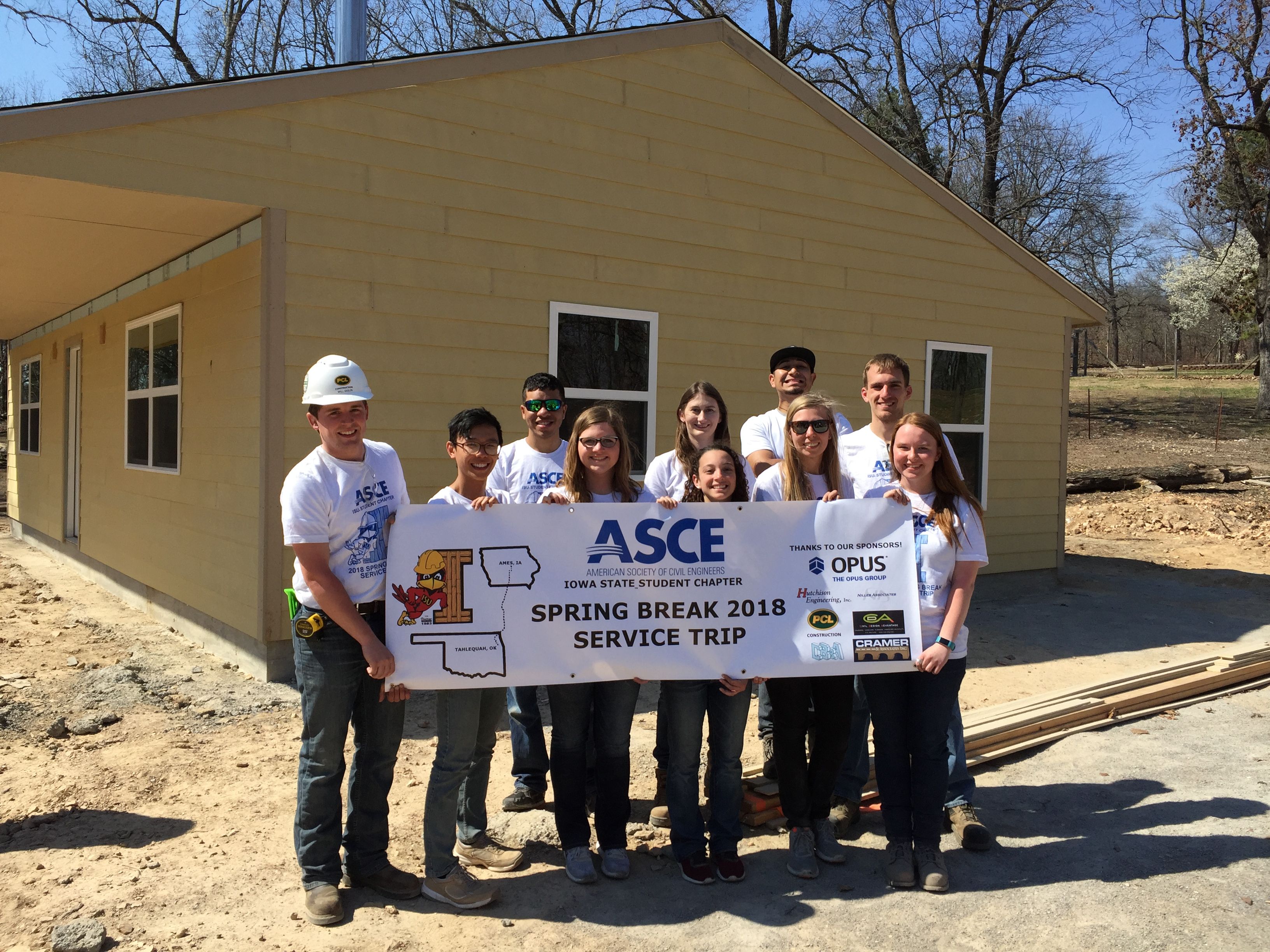 Above: (Back left): Ricardo Casine-Bell, Mariah Johnson, Miguel Tovar and David Sibert; (Front left) Will Siglin, William Huynh, Kara Kieffer, Taylor Clayborn, Lauren Britt and Kaylee Wiskus
"Got Talent" Fundraiser 2018
Students in the President's Leadership Class at Northeastern State University coordinated the "Tahlequah's Got Talent: Vocal Edition" fundraiser event to benefit Tahlequah Area Habitat for Humanity and the NSU Foundation Scholarship Fund.  The event, which took place on April 20, 2018, in the Webb Auditorium on the NSU campus, was a great success. Thank you President's Leadership Class!
Care-A-Vaners 2018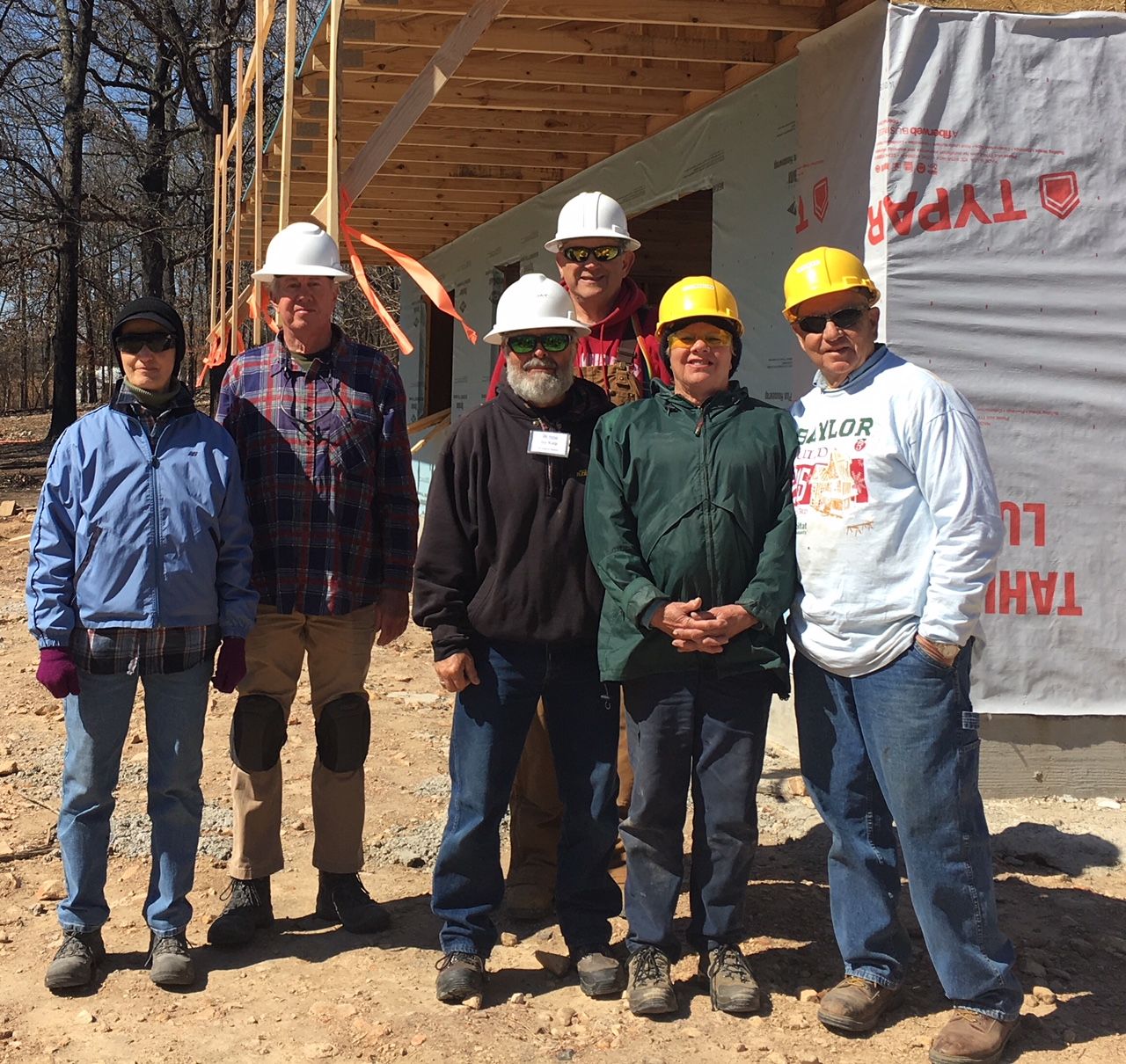 Our Care-A-Vaners working on House #25 in March 2018 pause for a photo.
First Wall Raising on House #25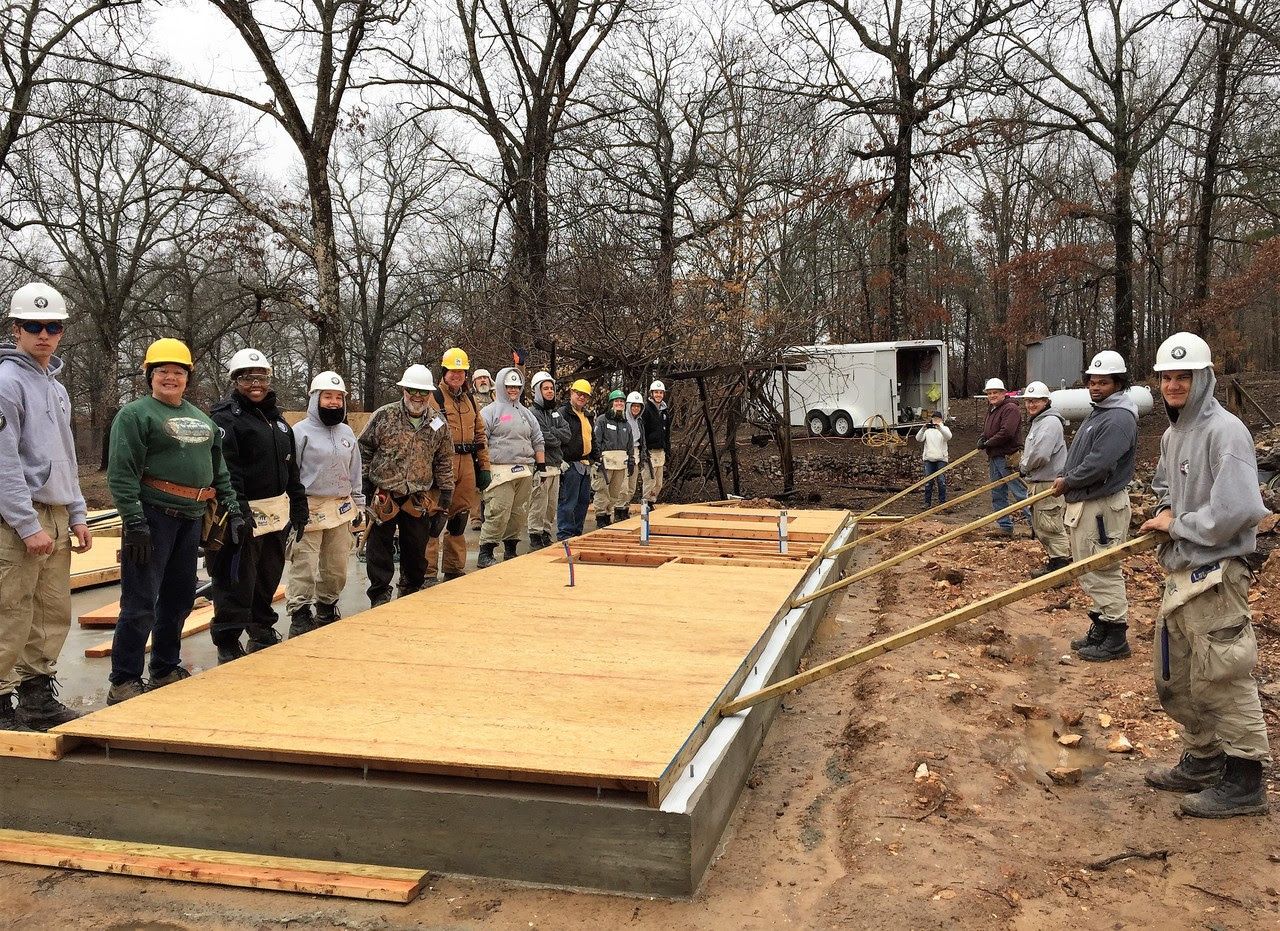 The First Wall Raising on House #25 in February 2018, thanks to our visiting AmericaCorps team and volunteer Care-a-Vanners!
AmericaCorps Helps Habitat in 2018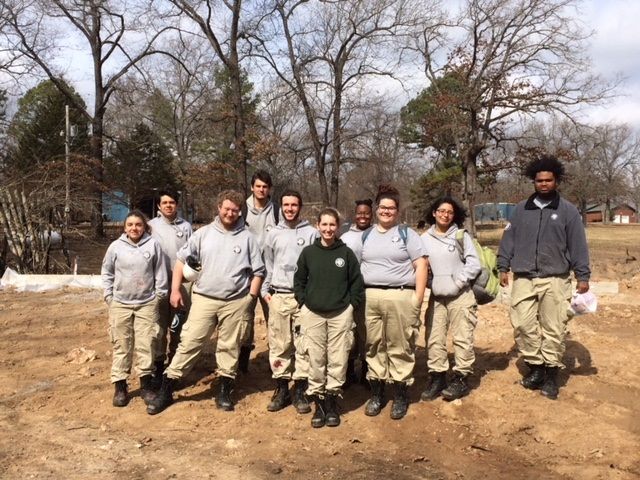 AmeriCorps "Earth Team" Getting ready to start House #25 in February 2018.  AmeriCorps engages more than 80,000 Americans in service each year at more than 21,000 sites including nonprofits, schools, public agencies, and community and faith-based groups across the country. 
AmeriCorps Helps Habitat in 2017
In November and December 2017 AmeriCorps volunteers helped TAHFH with Critical Repair Projects and other activities.  Young people, ages 18-24, from all over the United States sign up to serve as volunteers with AmericaCorps for one year.  Through a grant awarded to TAHFH, we welcomed the AmericaCorps "Water 9" team, which worked on several projects benefiting the community through partnerships with United Methodist Children's Home, American Indian Resource Center, Tahlequah Area Homeless Coalition Day Center, Tahlequah's CARE Food Pantry, and TAHFH.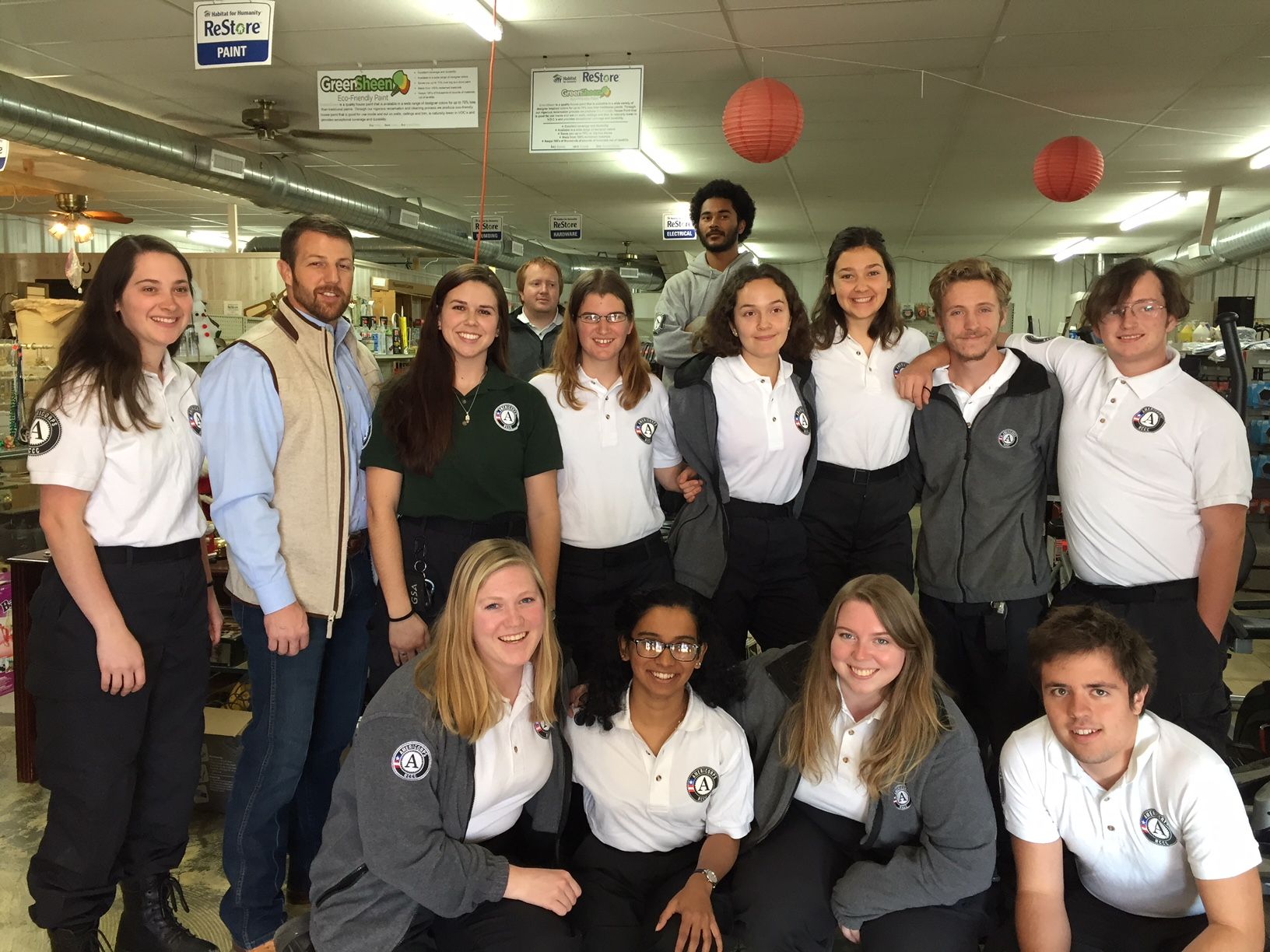 Above Photo: AmeriCorps "Water 9 Team" gathers for a group photo with Congressman Markwayne Mullin as they prepare to depart Tahlequah after 6 weeks of working for Tahlequah Habitat and 5 Habitat partners.  Back l-r: James Wahldice and Trey McIntyre. Middle l-r Caitlin Smyth, Cgr. Mullin, Team Leader Sarah Shotts, Nicole Schmiesing, Jules Zucker, Summer Vishnu, Charles Schmale, Alexander Lang-Martell.  Front l-r Mary Murdock, Sherry Oommen, Muriel Curry, and Hunter Weise.
Other News
House #24 Completed
TAHFH completed the construction of House #24 for Vergana Taylor in May 2017.  The house blessing for House #24 took place on May 28, 2017, and was attended by members of the community, board members, and well-wishers from as far away as Dallas, Texas.
Note of Thanks to Bike & Build
TAHFH would like to thank Bike & Build for providing a $4,100 grant to help build House #24.  Bike & Build is a nonprofit organization that works to provide affordable housing and empowers young adults for a lifetime of service and civic engagement.  In addition to providing grants, each year a group of participants bike across the country, stopping in various cities and towns where they temporarily trade their bikes for hammers and nails to help local housing organizations build affordable houses for those in need.  Thank you, Bike & Build, for helping Tahlequah Area Habitat for Humanity fulfill its mission!
TAHFH Awarded Grant from Tahlequah Community Foundation
Tahlequah Area Habitat for Humanity was awarded a $2,500 grant from Tahlequah Community Foundation.
Habitat Taking Applications for Home Loans
Tahlequah Area Habitat for Humanity is accepting applications for new homeowner partners. Homeowners are selected based on three criteria: the applicant's level of need; their willingness to partner with Habitat; and their ability to repay a mortgage through an affordable payment plan. Potential homeowners must meet income guidelines, be a US Citizen or Legal Resident, have credit of 640 or better and not be a registered sex offender. Homes must be built in Cherokee County.  In collaboration with the USDA, TAHFH helps potential homeowners apply for an affordable, low-interest mortgage through the USDA's Rural Development program. Habitat's homebuyers invest hundreds of hours of their own labor, called sweat equity, working alongside volunteers and other Habitat homeowners to help build their own homes. No profit is charged for building the house. Applications can be picked up at the TAHFH Office at 816 S. College Ave. on the corner of College Ave. and First St. Assistance is available for those needing help with the application process.  For additional information, call 918.453.1332 (Monday-Thursday).