Habitat volunteers and NCCC service workers prepare to build a porch and ramp for David and Joann Lancaster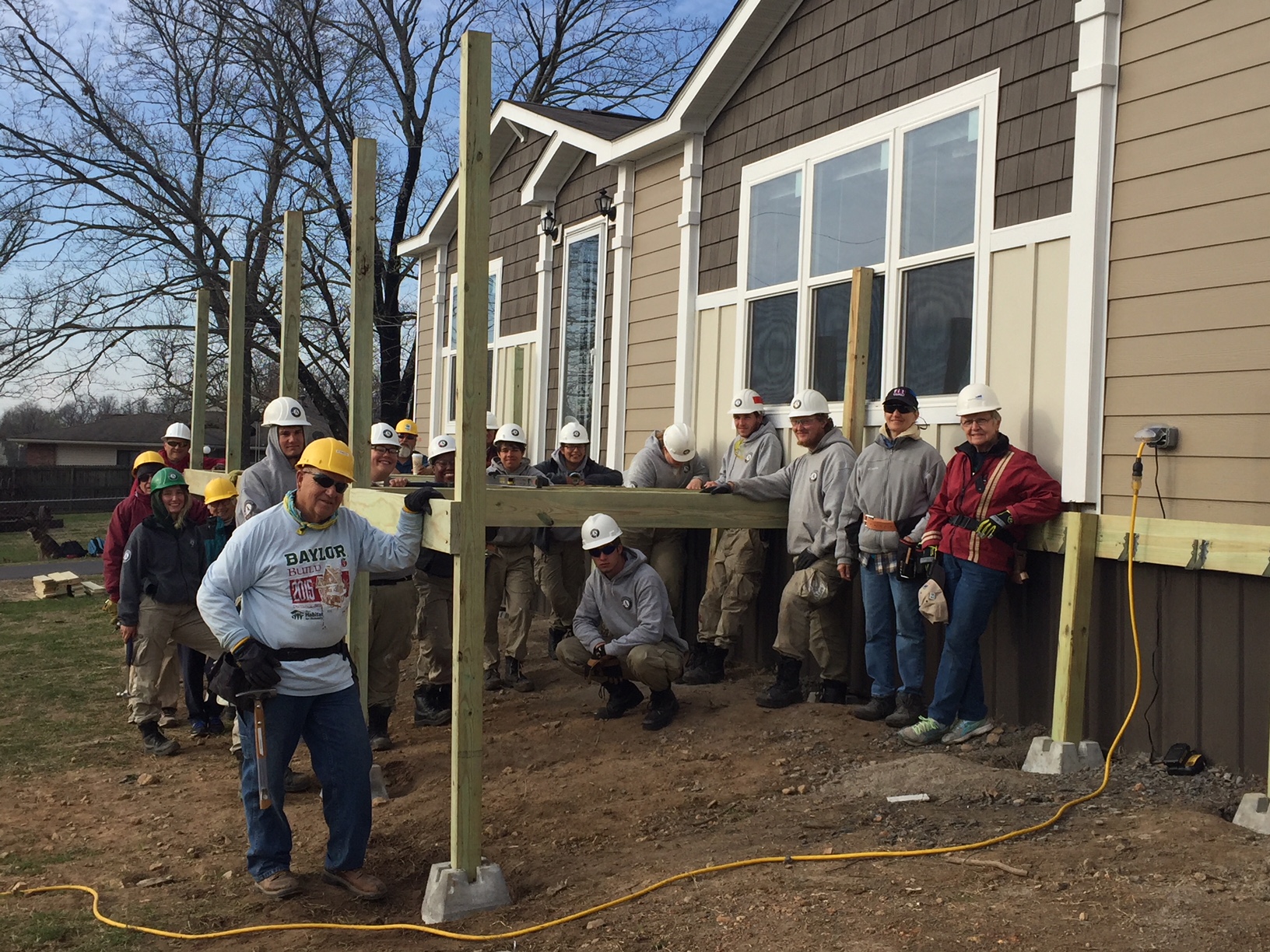 Above: Front to back on left are Fred Winslow, Mike Gugleilmo, Hedda Patzke, Lejla Bilanovic, Gary Patzke and Randall Mahaffey.  Front to back on right are Joan Thompson, Holly Hofmann, James Harrison, Austin Black.  Kneeling Kelson Buell. Center l-r Alexis Bakies, Ty Hemken, Ebony Eli, Richard Gold, Michael Bernard, Luz Corrales and Stephanie Dunton.  
Care-A-Vaners and Ty Hemken Work on a Ramp for the Lancaster Family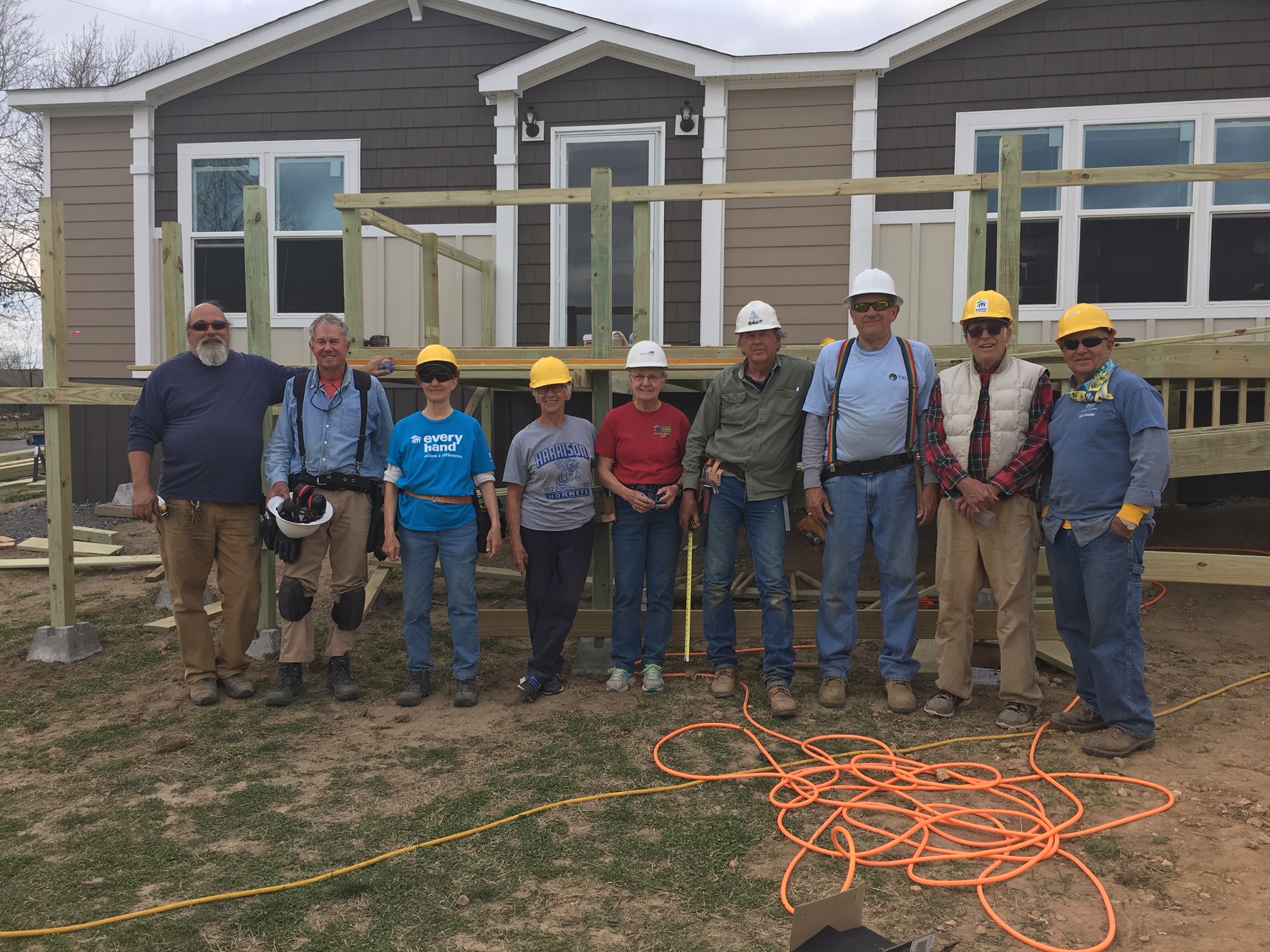 Iowa State University civil engineering students work on House #25 during their spring break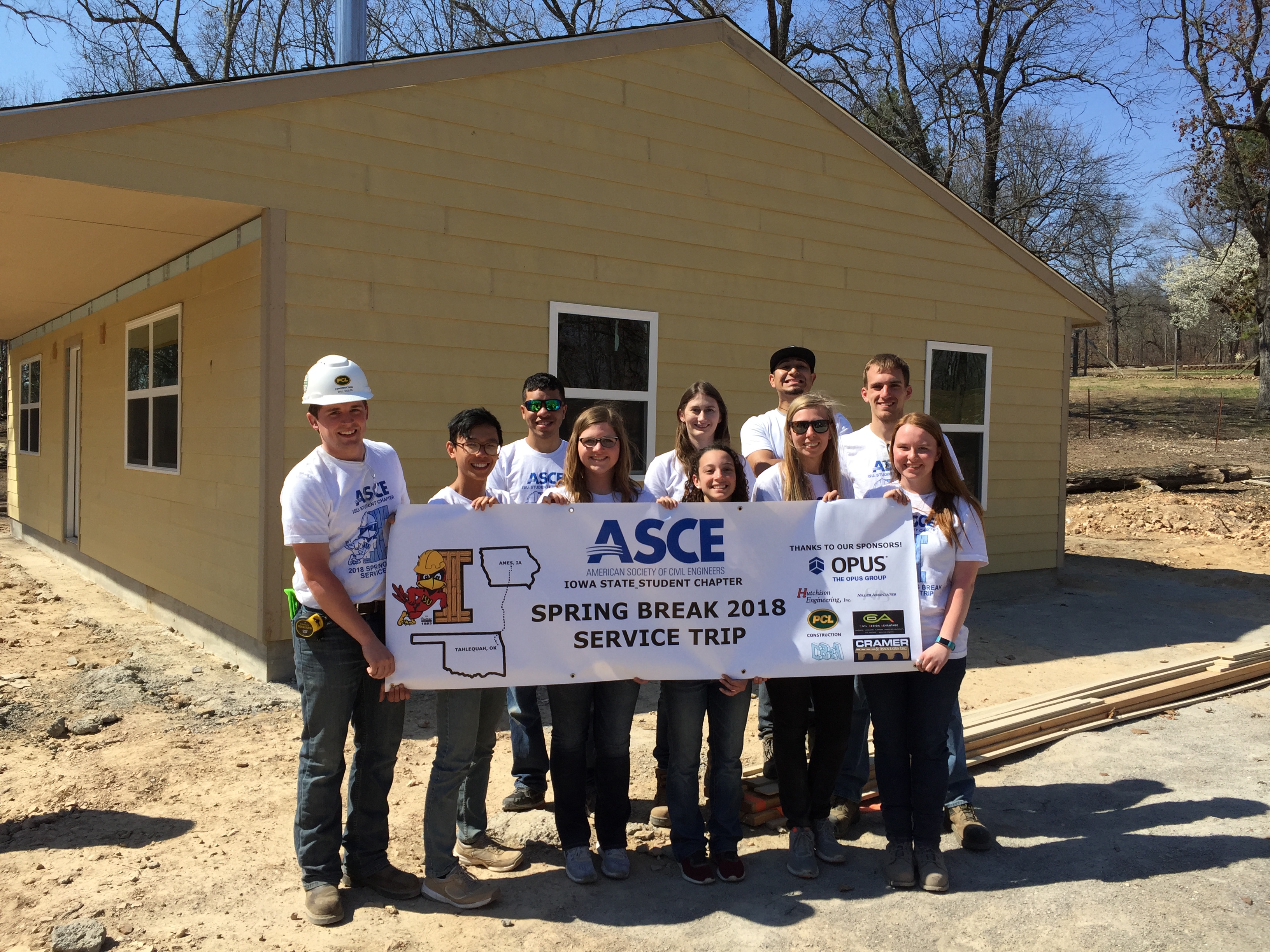 Above: (Back left): Ricardo Casine-Bell, Mariah Johnson, Miguel Tovar and David Sibert; (Front left) Will Siglin, William Huynh, Kara Kieffer, Taylor Clayborn, Lauren Britt and Kaylee Wiskus
"Got Talent" Fundraiser, April 20, 2018
Students in the President's Leadership Class at Northeastern State University are coordinating "Tahlequah's Got Talent: Vocal Edition" as a fundraiser event to benefit Tahlequah Area Habitat for Humanity and the NSU Foundation Scholarship Fund.  The event will take place at 6:00 p.m., Friday, April 20, 2018, in the Webb Auditorium on the NSU campus.  Contestants wishing to participate in the event are required to preregister and pay a $25 non-refundable registration fee.  The deadline to enter is April 18.  Registration forms and tickets to attend the talent event are available at the Habitat office, 816 South College Avenue, and the Chamber of Commerce, 123 East Delaware Street.
Care-A-Vaners 2018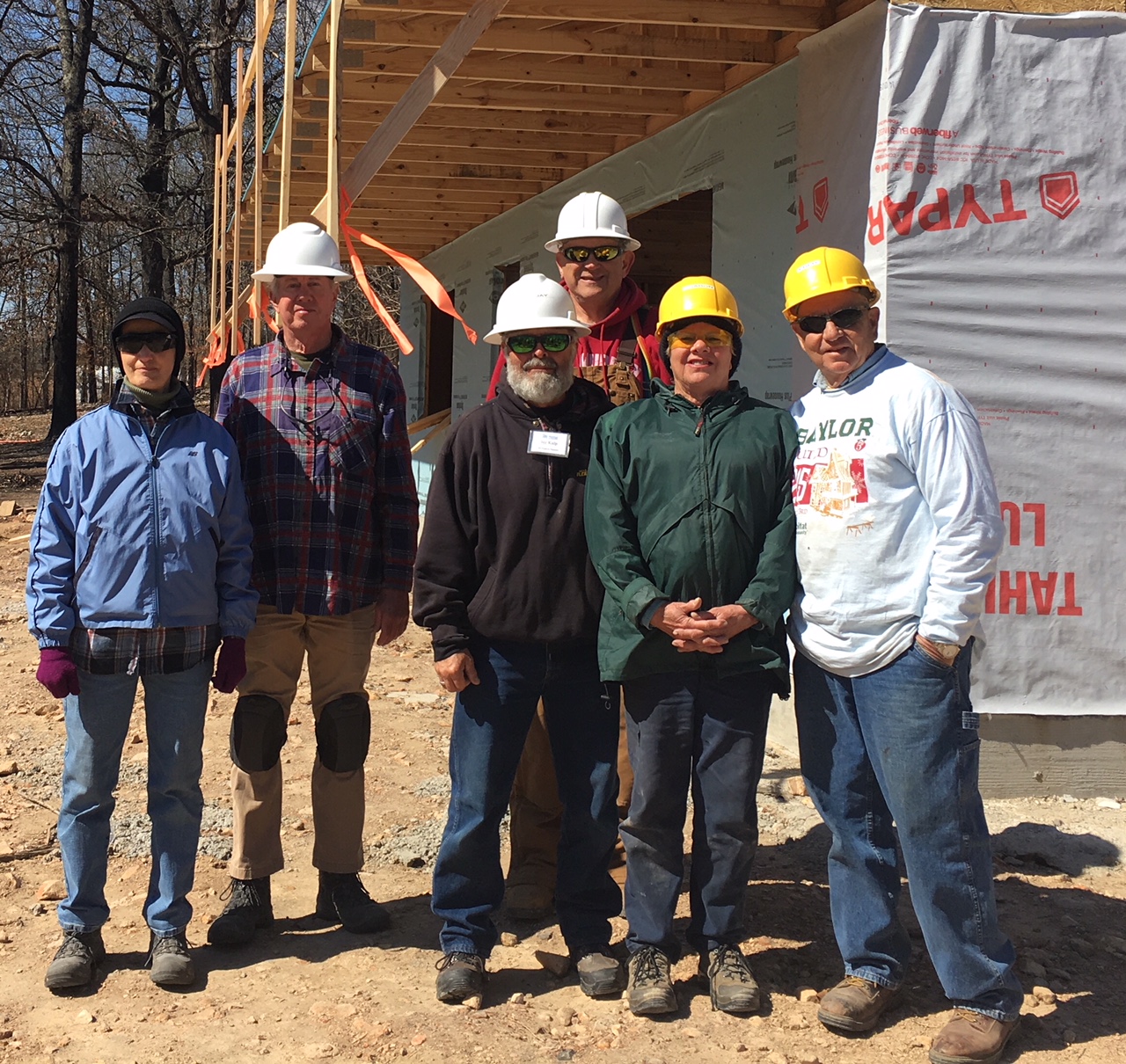 Our Care-A-Vaners working on House #25 in March 2018 pause for a photo.
First Wall Raising on House #25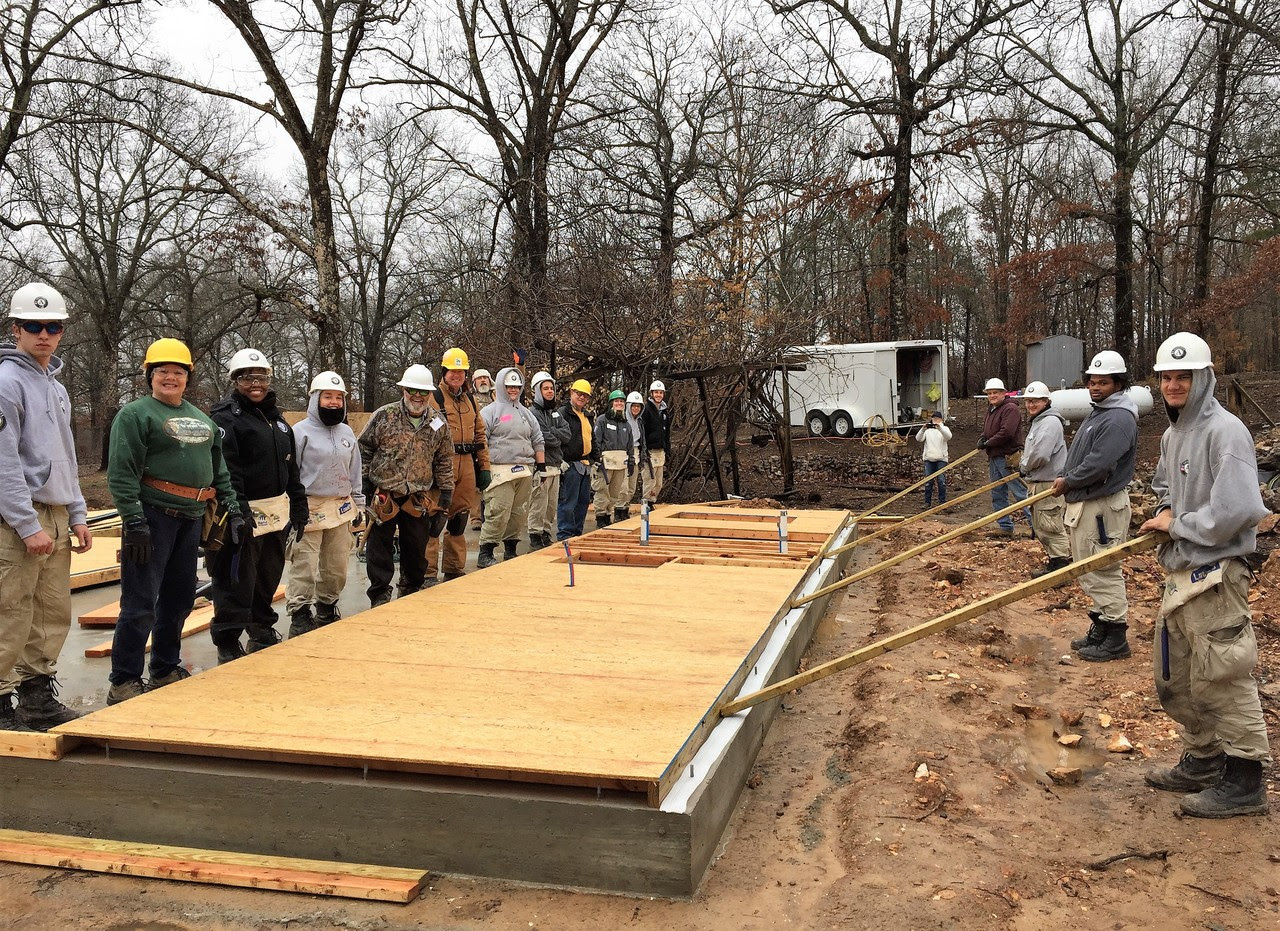 The First Wall Raising on House #25 in February 2018, thanks to our visiting AmericaCorps team and volunteer Care-a-Vanners!
AmericaCorps Helps Habitat in 2018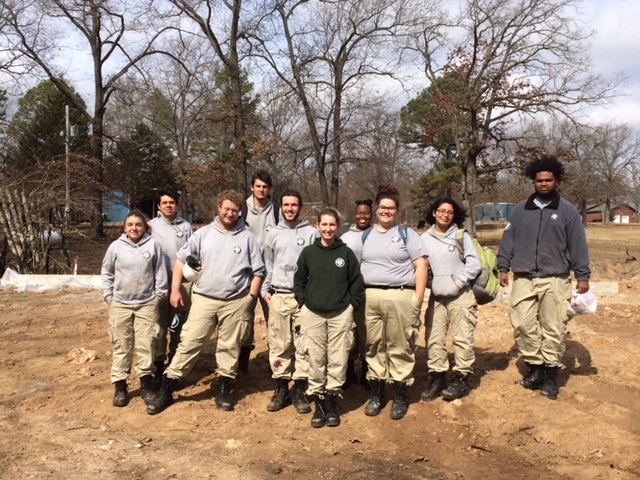 AmeriCorps "Earth Team" Getting ready to start House #25 in February 2018.  AmeriCorps engages more than 80,000 Americans in service each year at more than 21,000 sites including nonprofits, schools, public agencies, and community and faith-based groups across the country. 
Our Newest 2018 Habitat Partners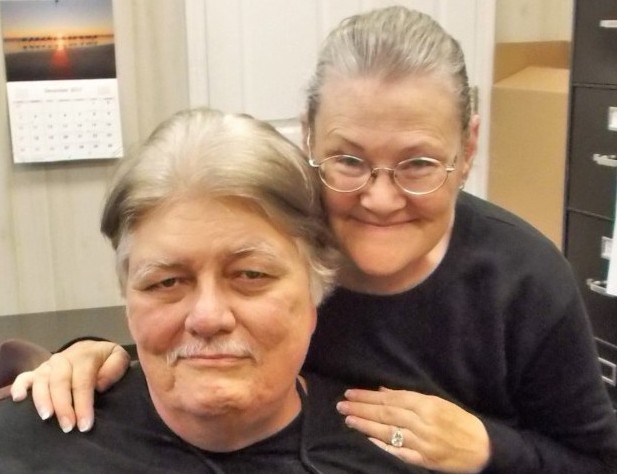 Welcome and congratulations to our newest Habitat Partners for House #25 Billie Paul and Kathleen Mills.  Construction on House #25 began on February 21, 2018.
AmeriCorps Helps Habitat in 2017
In November and December 2017 AmeriCorps volunteers helped TAHFH with Critical Repair Projects and other activities.  Young people, ages 18-24, from all over the United States sign up to serve as volunteers with AmericaCorps for one year.  Through a grant awarded to TAHFH, we welcomed the AmericaCorps "Water 9" team, which worked on several projects benefiting the community through partnerships with United Methodist Children's Home, American Indian Resource Center, Tahlequah Area Homeless Coalition Day Center, Tahlequah's CARE Food Pantry, and TAHFH.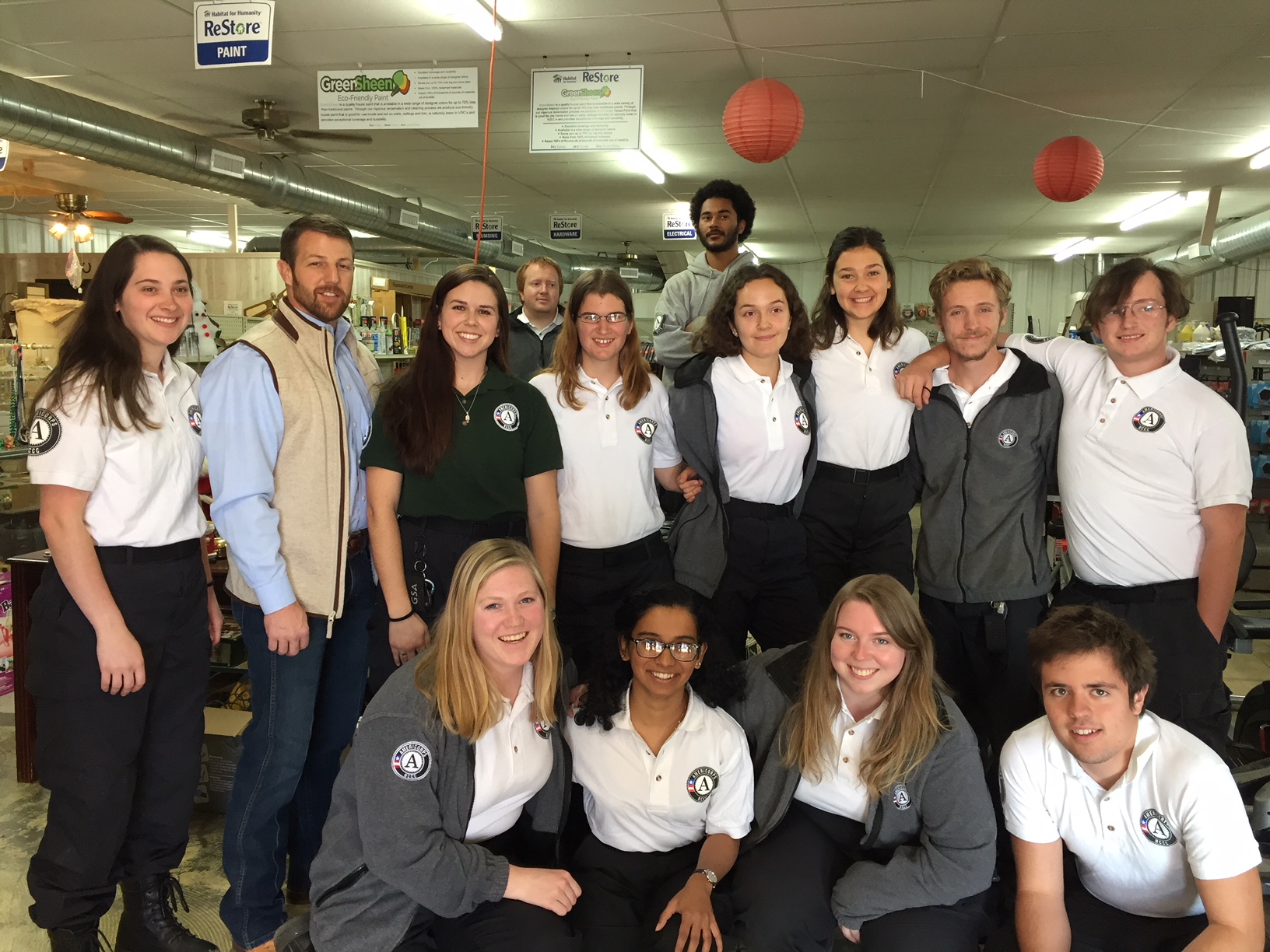 Above Photo: AmeriCorps "Water 9 Team" gathers for a group photo with Congressman Markwayne Mullin as they prepare to depart Tahlequah after 6 weeks of working for Tahlequah Habitat and 5 Habitat partners.  Back l-r: James Wahldice and Trey McIntyre. Middle l-r Caitlin Smyth, Cgr. Mullin, Team Leader Sarah Shotts, Nicole Schmiesing, Jules Zucker, Summer Vishnu, Charles Schmale, Alexander Lang-Martell.  Front l-r Mary Murdock, Sherry Oommen, Muriel Curry, and Hunter Weise.
Other News
House #24 Completed
TAHFH completed the construction of House #24 for Vergana Taylor in May 2017.  The house blessing for House #24 took place on May 28, 2017, and was attended by members of the community, board members, and well-wishers from as far away as Dallas, Texas.
Note of Thanks to Bike & Build
TAHFH would like to thank Bike & Build for providing a $4,100 grant to help build House #24.  Bike & Build is a nonprofit organization that works to provide affordable housing and empowers young adults for a lifetime of service and civic engagement.  In addition to providing grants, each year a group of participants bike across the country, stopping in various cities and towns where they temporarily trade their bikes for hammers and nails to help local housing organizations build affordable houses for those in need.  Thank you, Bike & Build, for helping Tahlequah Area Habitat for Humanity fulfill its mission!
TAHFH Awarded Grant from Tahlequah Community Foundation
Tahlequah Area Habitat for Humanity was awarded a $2,500 grant from Tahlequah Community Foundation.
Number One Consignment Shop in Tahlequah
Thank you Tahlequah for voting the Habitat ReStore as the #1 consignment shop in town!
Habitat Taking Applications for Home Loans
Tahlequah Area Habitat for Humanity is accepting applications for new homeowner partners. Homeowners are selected based on three criteria: the applicant's level of need; their willingness to partner with Habitat; and their ability to repay a mortgage through an affordable payment plan. Potential homeowners must meet income guidelines, be a US Citizen or Legal Resident, have credit of 640 or better and not be a registered sex offender. Homes must be built in Cherokee County.  In collaboration with the USDA, TAHFH helps potential homeowners apply for an affordable, low-interest mortgage through the USDA's Rural Development program. Habitat's homebuyers invest hundreds of hours of their own labor, called sweat equity, working alongside volunteers and other Habitat homeowners to help build their own homes. No profit is charged for building the house. Applications can be picked up at the TAHFH Office at 816 S. College Ave. on the corner of College Ave. and First St. Assistance is available for those needing help with the application process.  For additional information, call 918.453.1332 (Monday-Thursday).